Canada Lotto Max, one of Canada's three national lottery games, has built a loyal following since its launch over a decade ago. Using a familiar format, this popular lotto game often awards record-breaking jackpots, making it an easy choice among Canadians. In this Canada Lotto Max lottery review, we'll see how this game compares to other lotteries across the globe.
About Canada Lotto Max
Canada Lotto Max was officially launched with its first draw on September 25, 2009. Introduced as a replacement for the popular Lotto Super 7, the game has undergone a few changes since it began, with the jackpot cap being increased twice, first in July 2015, and most recently in May 2019. The 2019 format change also saw new prizes added for matches of four or five numbers, an increase in the ball pool and the addition of a second weekly draw.
Canada Lotto Max Draws
Canada Lotto Max draws take place bi-weekly on Tuesdays and Fridays between 10:30 pm and 10:40 pm EST. Numbers are drawn using Random Number Generator (RNG) software. Draws are overseen by the lotto organizer, Interprovincial Lottery Corporation, which is an organization comprising the five regional lottery corporations across Canada.
Each of the regional organizations also offers a $1 add-on game for Canada Lotto Max tickets. Depending on the region, these games are called Tag, Encore or Extra. The add-on games consist of a six- or seven-digit number with a top prize of $100,000 for six-digit games, or $250,000 to $1,000,000 for seven-digit games, depending on the region.
How to Play Canada Lotto Max
Players can purchase their Canada Lotto Max tickets from their local lottery retailers up until 10:30 pm EST on the night of the draw. Players who buy lotto tickets online through private lottery website operators may have a different purchase time cut-off.
To play, individuals must select seven numbers out of a pool of numbers from 1 to 50. Players can choose their own numbers or use the Quick Pick option for a random selection of numbers. All tickets also automatically come with a bonus number (from the same pool). When purchasing a ticket, players have the option of buying lines for up to 52 draws in a row using Advance Play. Tickets purchased in Canada cost a minimum of $5 but include three lines of numbers for that amount. For foreign players who buy lottery tickets online from a lotto agent, the price will be a bit higher.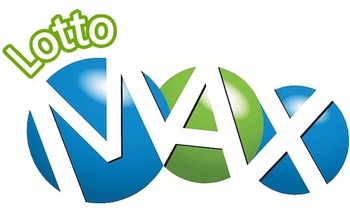 Canada Lotto Max Prizes and Odds
Canada Lotto Max has nine prize tiers, the easiest of which to win is the free ticket tier, which gives players a free play for the upcoming draw. Jackpots start at $10 million and are capped at $70 million.
One prize feature that sets Canada Lotto Max apart from many other online lotteries is the MaxMillions drawing. The MaxMillions draw occurs whenever a jackpot surpasses $50 million and carries a prize of $1 million. Like the main jackpot, MaxMillions prizes carry over if they aren't won, and additional MaxMillions draws are included each week that a main jackpot exceeding $50 million is not won.
The current prize tiers and odds for Canada Lotto Max are as follows:
| | | |
| --- | --- | --- |
| Number of Matches | Prize | Odds of Winning |
| 7/7 | Jackpot or 87.25% share of pool's fund | 1 in 33,294,800 |
| 6/7 + Bonus | 2.5% share of the pool's fund | 1 in 4,756,400 |
| 6/7 | 2.5% share of the pool's fund | 1 in 113,248 |
| 5/7 + Bonus | 1.5% share of the pool's fund | 1 in 37,749 |
| 5/7 | 3.5% share of the pool's fund | 1 in 1,841 |
| 4/7 + Bonus | 2.75% share of the pool's fund | 1 in 1,105 |
| 4/7 | $20 | 1 in 82.9 |
| 3/7 + Bonus | $20 | 1 in 82.9 |
| 3/7 | Free ticket | 1 in 8.5 |
| MaxMillions (7 of 7) (exact match only) | Win or share C$1 million each set drawn | 1 in 33,294,800 |
Claiming Canada Lotto Max Prizes
Canadian residents receive their Canada Lotto Max jackpots as a tax-free, lump-sum payment. However, players purchasing tickets through a private online lotto distributor may be subject to the tax laws of their country of residence. All prizes must be claimed within 12 months of the draw.
Notable Canada Lotto Max Winners
In its 10 years of operation, Canada Lotto Max has produced many record-breaking winners alongside its main national competitor Canada Lotto 649. In January 2020, a new record was set by Canada Lotto Max for the largest single jackpot win in Canadian history when a Brampton, Ontario man won $70 million.
Canada Lotto Max-Should You Play?
Though the ticket price is a bit higher than most lotteries, Canada Lotto Max has a decent amount of prize tiers and offers good odds of at least breaking even with a free ticket. The addition of MaxMillions draws on large jackpots, in addition to the frequency of draws, gives players even more opportunities to win this incredibly popular Canadian lotto game.