Australia is certainly not a country known to skimp when it comes to hosting great lotteries. In fact, there are several exciting lotto games in the Land Down Under.
In this guide, we will look at two lotteries that are carbon copies of one another but held on different days.
We will see how the games function and if you should hurry to buy Australia Monday and Wednesday Lotto tickets online for the next draws.
About Australia Monday and Wednesday Lotto
Both the Australia Monday and Wednesday Lotto were launched in 1979. At the time, they were the biggest draws offered in the country.
This changed in 1994 when Oz Lotto was launched and offered significantly bigger prizes.
In 2008, the games changed organisers and fell into place under the Australia Tattersall Lottery portfolio.
Since then, these two lotteries have remained local favourites and are even played internationally.
Both games have undergone a number of changes since their inception. However, in 2012, the games settled on a format that they still make use of today.
One strange thing is that these lotteries go by different names depending on where in Australia you are located.
In Queensland, the games are called Gold Lotto and in South Australia, they go by the name X Lotto.
Australia Monday and Wednesday Lotto Draws
As you may imagine, these lotteries take place on Mondays and Wednesdays. The draws take place on their respective days at 8:30 PM AEST or 9:30 PM AEDT.
The draws are held at the Tattersall offices in the Australian state of Victoria.
How to Play Australia Monday and Wednesday Lotto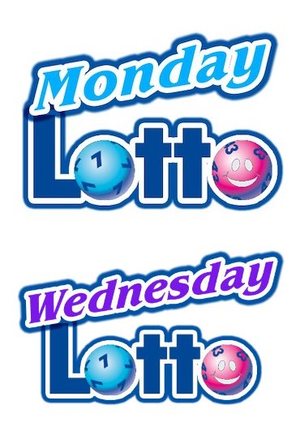 The games both follow a very straightforward single-matrix 6/45 format. This makes buying a lottery ticket very simple.
To play, you will need to select numbers that must come from a number pool ranging from 1 to 45. There are no additional numbers to worry about choosing.
To win the jackpot, you must match all six numbers that are drawn.
If you can't remember what your regular numbers are or don't feel like choosing any, the game offers a quick pick function. This allows a computer to choose your numbers on your behalf.
A single ticket costs between AU $0.55 and AU $1 depending on how many lines you choose to play and if purchased in the country.
There is also the option to play using system play. Naturally, this type of play costs significantly more.
System play lets you choose more than just the six numbers you would otherwise play with. This means that you will actually be playing multiple different possible combinations formed by up to 20 numbers.
There is no need to say that playing with system play is a way to greatly improve your chances of winning. However, as stated above, it does cost a rather higher amount per ticket.
There is one other thing to note. While you are only required to choose six numbers to play, during the draw eight numbers are actually drawn.
These additional two numbers are called supplementary numbers and are used to decide on non-jackpot tier winners.
Australia Monday and Wednesday Lotto Prizes and Odds
One thing that sets these games apart from other Australia lotteries is that they both have a fixed jackpot of only AU $1 million.
This may sound like a little amount, but the odds of winning are better than many other games.
The downside to this fixed jackpot is that it never rolls over or increases. The most you can win during a standard draw is AU $1 million.
However, special draws are occasionally held with jackpots of AU $5 million.
Your odds of winning the jackpot are 1 in 8,145,060. These more than make up for the lower jackpot and are some of the most favourable odds of any of the widely known international lotteries.
In addition to the jackpot, there are another five prize tiers that you could win on.
These all have estimated prizes but are still worth winning. Below is a breakdown of all the prize tiers:
| | | |
| --- | --- | --- |
| Numbers Matched (SN = Supplementary Number) | Odds of Winning | Prize |
| 6 of 6 | 1 in 8,145,060 | Jackpot (AU $1 million) |
| 5 of 6 + 1 or 2 SNs | 1 in 678,755 | AU $5,240 |
| 5 of 6 | 1 in 36,689 | AU $400 |
| 4 of 6 | 1 in 733 | AU $25 |
| 3 of 6 + 1 or 2 SNs | 1 in 297 | AU $14 |
| 1 or 2 of 6 + 2 SNs | 1 in 144 | AU $12 |
Claiming Australia Monday and Wednesday Lotto Prizes
Claiming lottery winnings for Australia Monday and Wednesday Lotto tickets is easy. However, the process depends on the amount that you have won.
If you have won less than AU $1,500, you can claim your prize at any registered retail outlet. If you have won any amount over this, you will need to claim your prize in one of two ways.
The first way is to claim via the postal service by submitting your winning ticket and a Prize Claim Form. This applies to jackpot winnings as well.
The second option is to visit any official lottery office with your winning lottery ticket.
A great perk is that, if you are a jackpot winner, you can have the option of remaining anonymous.
Notable Australia Monday and Wednesday Lotto Winners
Because the jackpots for both games are static and set at AU $1 million, no winners have ever been able to claim more than this amount. That is unless you count special draw winners who have claimed AU $5 million.
Australia Monday and Wednesday Lotto-Should You Play?
With two chances to win AU $1 million every week for a relatively low ticket price and pretty decent odds, it is a no-brainer as to whether or not you should play.
There is a reason that these two lotteries have been a staple in Australia's lottery market for such a long time. They are great games that have turned hundreds of people into millionaires.
So, if you are looking for a lottery ticket to buy, we strongly recommend you grab a ticket to one or both of these lotteries. You may just be featured on the next list of winners.