The Lottery Office is a lotto website that was launched in 2014. It is owned and operated by parent company Global Players Network Pty Ltd., which has been around since 2003.
The website is based in Australia, and only players living Australia and New Zealand can purchase tickets.
In this Lottery Office review, we'll explain how this website works and why users should choose it.
How Lottery Office Works
The Lottery Office functions a bit differently from most popular lottery websites.
This is because the site offers its own lotteries that are licensed and operated in the Northern Territory of Australia. These lotteries are conducted under government supervision.
However, when a user purchases a ticket through the website, an identical official ticket is purchased from the overseas lotto organization. This is how The Lottery Office guarantees that they can pay out any wining prizes.
If the ticket purchased is a winner, The Lottery Office claims the prize on the user's behalf. They then pay out the prize to the user.
To buy tickets from The Lottery Office, users must open an account. This requires entering some personal information, like email, phone number, date of birth and address.
To create an account, simply click on the "Sign Up" button at the top-right of the screen.
Once an account is created, users have a few different options for purchasing tickets:
Single Draw: Purchase 1, 3, 6, 9, 12 or 20 Quick Plays for a single draw, or choose your own numbers for a single lotto draw.
Combos: Purchase tickets for multiple lotto games at a time. There are currently four combos to choose from: USA Combo, Euro Combo, USA/Euro Combo and All Lotteries Combo.
Syndicates: Purchase shares in a syndicate with other players. This increases your chances of winning without having to spend significantly more on tickets.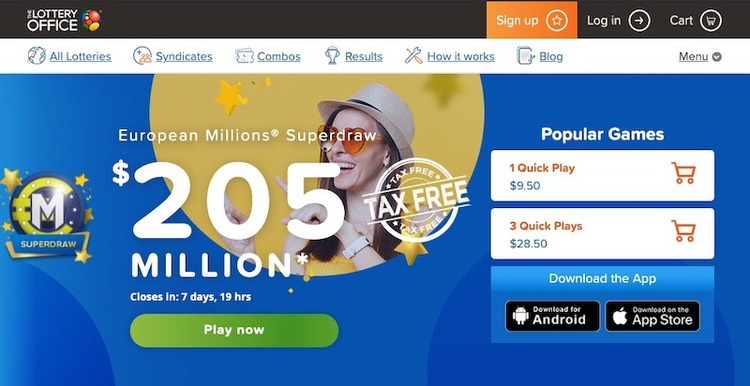 Features
Syndicates
Lottery combos
Lottery results
Ease of Use
The Lottery Office is a very straightforward website. It has a nice, engaging design and is easy to navigate.
The homepage is bright, with crisp graphics for each supported lottery.
Users can easily buy lotto tickets by clicking on the "Play now" button of each lottery.
The navigation bar along the top of the screen makes it easy for users to find everything they need. The bar includes tabs for "All Lotteries," "Syndicates," "Combos," "Results," "How It Works" and "Blog."
For easy mobile playing, The Lottery Office has dedicated apps for Android and Apple devices. The website is also mobile-friendly, so players can visit and buy tickets via web browser on their tablet or smartphone.
Supported Lotteries
European Millions
Italian Super Jackpot
La Primitiva
USA Power Lotto
USA Mega Lotto
European Jackpot
UK Lotto
Irish Lotto
Promos
The Lottery Office is a very straightforward website with no frills. Unfortunately, that also extends to their promos. There are no sign-up bonuses, loyalty programs or other promotions, at least at the time we were writing this review.
Payments & Withdrawal Options
The payment and withdrawal options on The Lottery Office are somewhat limited.
Users can add funds to their account using Visa, Mastercard, BPay, Paysafecard and POLi Pay. POLi Pay is only available for customers in Australia.
All transactions on the website are in Australian Dollars.
Additionally, there is a minimum deposit amount of $5 and a maximum deposit amount of $3,000 for a single transaction. There is a weekly maximum deposit limit of $10,000.
Lucky winners can withdraw their prizes using bank transfers. There is a minimum withdrawal amount of $10, and player accounts must be verified before funds can be withdrawn.
There are no commission fees taken off prizes. However, some international banks may take a transaction fee for bank transfers.
Customer Support
Lottery Office has a helpful FAQ section that answers many questions users may have about the website.
If players have questions or encounter issues that are not answered in this section, they have some customer support options:
Is Lottery Office Legit?
The Lottery Office is a legit website that offers users the chance to win millions by playing overseas lotteries.
The website is based out of Australia and is regulated by the Northern Territory Government of Australia.
On top of giving users access to international lotteries, The Lottery Office gives back through charitable donations.
A portion of ticket sales is directed to The Lottery Office Charitable and Community Benefits Fund. This fund has donated tens of thousands of dollars to dozens of Australian charity organizations.
Lottery Office Final Verdict
The Lottery Office is a legitimate website that allows lottery hopefuls in New Zealand and Australia to buy international lottery tickets.
Though there are limited supported lotteries and few features, The Lottery Office is a very straightforward service.
There is no fuss involved with this website, and if you live in one of the allowable countries, it is a great choice for playing the lotto online.