Launched in 2016, Jackpot.com is one of the newer websites offering users the opportunity to play lotteries from all around the world.
Players can choose from various international lotteries and even casino games to play online from the comfort of their own home.
This Jackpot.com review will evaluate how this site compares to some of the best in the business.
How Jackpot.com Works
Instead of functioning as a lottery agent that purchases physical tickets on behalf of customers, Jackpot.com is a lotto betting service.
This means that users are not purchasing an actual ticket for the draw, but are betting on the outcome of it.
If you win, your prize is paid by Jackpot.com or its insurer instead of the official lottery organization.
Despite the differences between lottery agents and betting services, playing the lotto online on Jackpot.com is similar to buying real tickets on other lottery sites.
First, you have to sign up for an account with the website, which involves submitting your personal information and creating a username and password.
You will then have to verify your account via email, and then you can deposit money into your account and begin purchasing bets.
Players can either select their numbers manually or choose a quick pick option.
They are also able to choose from a few different playing options:
Single play: Purchase bets for a single draw.
Subscription: Automatically purchase bets for upcoming draws. You can cancel your subscription whenever you want.
Syndicates: Join a group of people in purchasing many bets, splitting the price and also the winnings.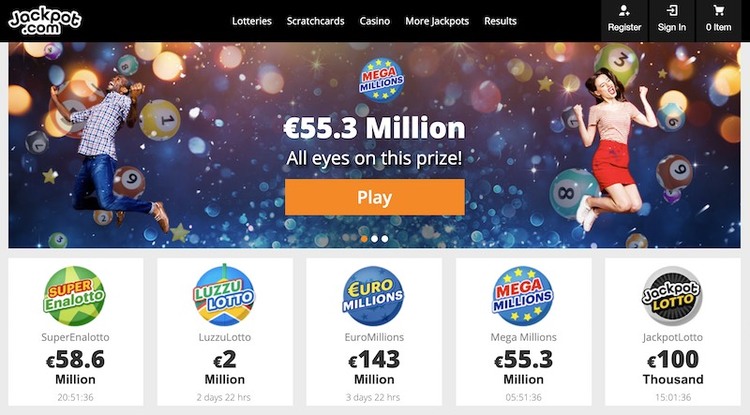 ,
Features
Online scratch cards
Online casino games, including slots, table games and live casino
International lottery results
Syndicates
Subscriptions
Available in 6 languages: English, Russian, German, Spanish, Italian and Portuguese
Ease of Use
The Jackpot.com website is straightforward and easy to navigate, with bright graphics and a clear navigation bar.
The homepage displays the most popular lottery draws and other available games, with a "Support" button located at the bottom right of the screen if users need assistance.
The mobile version of the site is also very responsive and easy to use.
Jackpot.com offers an app for iOS devices but does not currently have one for Android users.
Supported Lotteries
Promos
Jackpot.com offers weekly promos to help you save while you're trying to win big with the online lottery.
You can find discounts for scratch cards and free spins for casino games.
There are also discounts on lottery subscriptions, which can help you save a lot of money over time.
Payment & Withdrawal Options
Buying lottery draw entries in the form of wagers is easy via Jackpot.com, as the site offers over 20 payment methods.
They support credit cards and e-wallets such as Visa, MasterCard, PayPal, Neteller, Skrill and WebMoney, but unfortunately do not allow bank transfers at this time. The website claims they will soon be adding bank transfer as a payment method.
Players can withdraw money from their Jackpot.com account as soon as they reach a €5 minimum. However, they will have to contact the customer service department to arrange for the withdrawal of any prize larger than €1,000.
Users have many withdrawal methods to choose from, including Visa, MasterCard, Neteller, and Skrill.
Customer Support
If users have any questions or concerns about Jackpot.com, they have several options.
The first place they should head is to the extensive FAQ page on the website.
If that doesn't answer their queries, they can contact a customer experience team member using any of the following methods:
Live chat every day between 7:00 and 21:00 GMT
Phone +441515414507 between 7:00 and 21:00 GMT
Email at support@jackpot.com
Leave a message through the "Support" button
Message via WhatsApp or Facebook Messenger
Is Jackpot.com Legit?
Is, Jackpot.com is a legitimate online lottery website that allows you to win prizes based on lotto results around the world.
Jackpot.com is owned and operated by a Malta-based company called Lottomatrix Operations Limited and is monitored and regulated by the Malta Gaming Authority.
Jackpot.com Review Final Verdict
For a relative newcomer in the industry, Jackpot.com has been doing very well for itself since its inception.
The website supports a fair amount of international lotteries and many fun online scratch cards and casino games.
Additionally, there are multiple ways to get in touch with customer support and a vast selection of payment methods.
While an Android app would sweeten the deal-and perhaps that's something that is in the works-Jackpot.com is still a solid lottery betting site overall.
In fact, it's among the best online lottery sites in the world.