LottoKings is an online lottery service that lets users in over 140 countries play more than 20 lottery games and raffles online.
Started in 2010 and originally called CongaLotto, LottoKings has been helping people play the richest lotteries in the world from the comfort of their home or office.
In this LottoKings review, we'll go over everything you need to know about this online lottery website.
How LottoKings Works
LottoKings is a hybrid lottery agent and betting service. This means they can either buy tickets from an official lottery organization on your behalf or let users place bets on the results of the lottery.
One of the frustrating aspects of using LottoKings is that you don't get to choose whether you purchase an official ticket or place a bet. The website reserves the right to make that decision at their discretion, presumably based on the size of the jackpot.
Many hybrid lottery sites take bets on smaller jackpots, but when they reach astronomical figures that would be too hard or expensive for their insurer to cover, their agents go out and buy physical tickets instead.
To start playing lotto online, you need to create an account. You will have to enter your first and last name, email address, birthday, phone number, address, and country of residence.
After your account is verified (you will receive an email verification), you can deposit money into your account and start buying tickets. You can either choose your own numbers or opt for a quick pick.
LottoKings offers different ways of playing and paying for lotto draws:
Single Play: Buy solo entries for yourself. There is a minimum purchase of 3 to 6 tickets depending on the lottery.
Syndicates: Play in groups to buy a larger amount of tickets. You split the cost of the tickets with your syndicate members and split the winnings.
Multiple Draws: Buy ahead for multiple draws using the same numbers.
Subscriptions: Automatically buy tickets for all future draws within a certain period of your choosing. You can cancel a subscription at any time, but LottoKings charges a $10 administration fee for cancellations.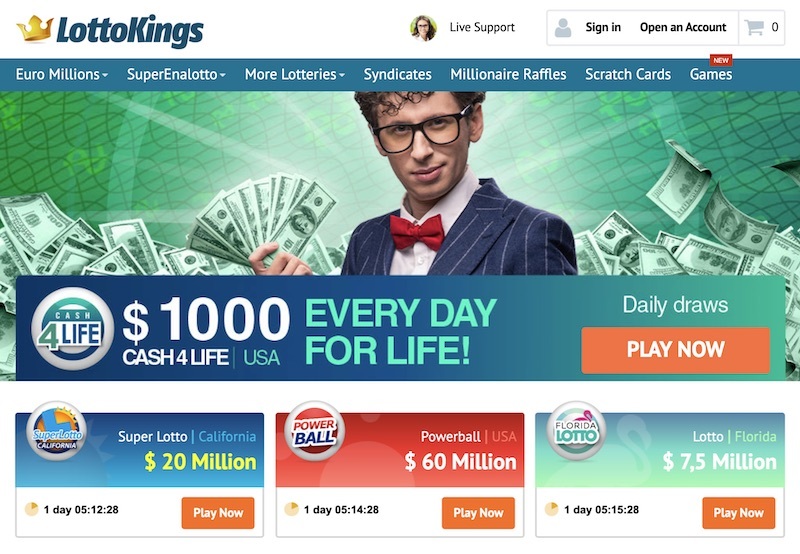 ,
Features
Syndicates
Online scratch cards
Online slot games
Online casino card games
International raffles
Lotto results for 19 different lotteries
Available in 7 different languages (English, French, Spanish, German, Portuguese, Russian Polish)
30-day satisfaction guarantee
Ease of Use
LottoKings has a user-friendly interface that is bright and easy to understand.
You can access many of the biggest online lotteries from the main page and easily click through the tabs to find the rest.
The website clearly displays the jackpot amount and a countdown to the next draw.
LottoKings is also easy to use on mobile; however, they do not have a mobile app.
Supported Lotteries
Mega Millions
Germany Lotto
Italy SuperEnalotto
Irish Lotto
UK Lotto
France Loto
UK Thunderball
Spain La Primitiva
Brazil Mega Sena
California Super Lotto
US Powerball
Canada Lotto 649
Florida Lotto
New York Lotto
Spain El Gordo
Oz Lotto
EuroMillions
Oz Powerball
Eurojackpot
Promos
LottoKings occasionally has promotions that they send to users via email. They also have many incentives for new members to sign up, such as 2-for-1 tickets and first-order discounts. After you sign up, remember to keep an eye on your email inbox for new promos.

,
Payment & Withdrawal Options
Visa
MasterCard
American Express
JCB
EntroPay
Skrill
Paysafecard / Ukash
Bank transfer
Cheques
Players have two options for how to claim their prizes.
They can either choose to have the amount applied to their account as a credit to continue playing or decide to have their money sent by cheque or wire transfer.
For bigger prizes, LottoKings sends the player the physical winning ticket, which they are responsible for claiming through the official lottery organization.
Unlike some online lottery website, LottoKings does not take a percentage of your winnings.
Instead, they charge a flat fee for ticket purchases.
Customer Support
LottoKings has a detailed FAQ section that may resolve many player concerns.
If users have more questions, they have a few options for getting in touch with customer support. These include:
Filling out the "Contact Us" form on the website
Reaching out through their "Live Chat" from 8 a.m. to 7 p.m. (Uruguay Standard Time)
Leaving a message through "Live Chat" when it is not online
Emailing info@LottoKings.com
Calling +44 808 281 2743 or +57 4 604 0827
Is LottoKings Legit?
Yes, LottoKings is legit! This website has been operating in the online lottery space for many years and has built a trustworthy brand.
It is run by a company called Legacy Eight Curacao N.V., who holds a gaming license issued by the government of Netherland Antilles.
Additionally, they go the extra mile to ensure players' information is secure, with hacker protection and verified security from GoDaddy.
LottoKings Review Final Verdict
LottoKings is among the most credible online lottery websites.
It allows users to safely enter international lotto draws from anywhere in the world, and it is quick to sign up for and is easy to use.
It has lotto syndicates and subscriptions that allow you to increase your odds of winning and prevent you from missing a draw.
If players have any questions, there are numerous ways to get in touch with customer support to make their experience the best it can be.
While the $10 cancellation fee on subscriptions seems unnecessary, LottoKings is overall a solid site that we find ourselves returning to time and time again.