Lottery.Bitcoin.com is an exciting website that combines new technology and popular international lotteries.
Also called Bitcoin.com Lottery, the website was launched in 2020 through a partnership between three companies. These are Bitcoin.com, a Bitcoin (BTC) and Bitcoin Cash (BCH) services provider, and the Canadian iGaming company Bravio Technologies Limited.
In this Lottery.Bitcoin.com review, we'll explain how this new website lets you can play lotto online differently from what you might be used to.
How Lottery.Bitcoin.com Works
Lottery.Bitcoin.com describes itself as an online lottery ticketing system, which acts as a lottery messenger service.
This means that the site allows users to purchase tickets for lotto games around the world via local agents. These agents will actually go out and buy each order on your behalf from official retailers of the lottery game you've selected.
Once this happens, a scanned copy of the physical ticket becomes available in your account.
One catch that makes Lottery.Bitcoin.com different from other online lottery websites is that players use a Bitcoin wallet to deposit funds into their accounts. Other sites generally accept traditional payment methods that are connected to banks or other financial institutions.
Once you have a Bitcoin wallet or are connected to the Bitcoin network, you have to register for an account on Lottery.Bitcoin.com.
Registering for an account only requires your email and password, and you can add your BCH address if you so choose. You can then buy tickets for some of the biggest lotteries in the world.
When buying tickets, you have a few options to choose from:
Standard: Purchase up to four lines for a single upcoming draw by selecting your numbers manually or choosing the Quick Pick option.
Multi-draw: Purchase up to four lines for 2, 4, 8, 26, or 52 upcoming draws at once, at a discounted rate.
Group play: Group play, also known as syndicate play, allows you to increase in your chances of winning by playing with other people. Up to 150 people per draw can join a group and split the cost of up to 50 lines.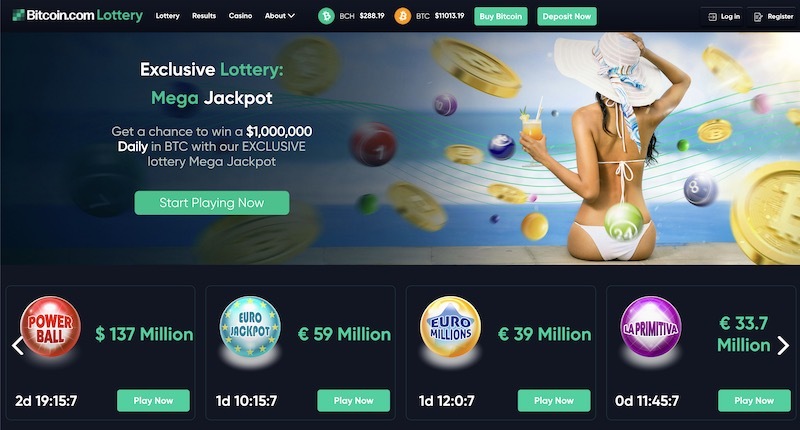 Features
Syndicates
Loyalty program
Ticket scans
Multi-draw discounts
Lotto results
Lottery news
Exclusive BTC draws
Link to Bitcoin casino games
Ease of Use
Lottery.Bitcoin.com has a sharp, straightforward design that helps users easily find what they need to buy lottery tickets online through the website.
The homepage features exclusive upcoming lotto draws, recent lotto results, and other information about the site.
On the top of each page is a navigation bar where users can quickly access the "Lottery," "Results," "Casino," and "About" tabs.
The navigation bar also features easily visible green buttons that allow users to "Buy Bitcoin" and "Deposit Now."
Android users can download a dedicated Lottery.Bitcoin.com app that connects directly with players' mobile Bitcoin wallet.
At this time, there is no dedicated iOS app for iPhone or iPad users, though the website is mobile-friendly, so players can seamlessly browse from their smartphones or tablets in their preferred mobile browser.
Supported Lotteries
US Powerball
Eurojackpot
La Primitiva
EuroMillions
Mega Millions
UK Lotto
Lotto 649 (Canada)
New York Lotto
Oz Lotto
Bono Loto
Super Enalotto
El Gordo
Exclusive BTC $1 Million Daily Draw
Exclusive BTC Power Play Draw (every 5 minutes)
Promos
Lottery.Bitcoin.com has seasonal promotions that give players special discounts on their purchases.
For example, in summer 2020, the site rewarded the first 100 people who purchased tickets with an automatic discount.
There does not appear to be any kind of sign-up bonus, though the website does mention that a referral program is coming soon.
As players wait for that program to be announced, they can sign up for the Lottery.Bitcoin.com loyalty program. This program gives players access to a personal account manager and discounts on every purchase.
Payment & Withdrawal Options
The major difference between Lottery.Bitcoin.com and other online lottery messenger services are the payment methods.
In order to purchase lottery tickets online through this website, users must connect a Bitcoin wallet to their account.
Once that is connected, they can use Bitcoin or Bitcoin Cash to deposit money into their account.
The minimum deposit amount is the cost of one ticket plus a small administration fee.
To withdraw funds, users must click on the "Cash Out" button located in the "My Account" section of the website.
They will then be asked for a destination address for the Bitcoin network where they would like to transfer the funds.
The transaction will be processed within a few seconds and a small fee of 0.0001 BCH (about US$1.10) will be charged.
Customer Support
Users who have general questions about how the website works can visit the FAQ page.
The page is easily accessed from the drop-down menu under the "About" section in the navigation bar.
While the FAQ does cover most of the basic questions users may have, many of the answers are quite brief and don't go into too much detail.
If users can't find the answers they're looking for, they can also contact customer support in the following ways:
Is Lottery.Bitcoin.com Legit?
Yes, Lottery.Bitcoin.com is legit.
It is owned and operated by Bitcoin.com, which is registered under the name Saint Bitts LLC in Saint Kitts and Nevis.
Bitcoin.com is a reputable organisation in the Bitcoin world. In fact, it was one of the earliest promoters of Bitcoin as a burgeoning currency and of the Bitcoin network.
Additionally, Lottery.Bitcoin.com has many features that help ensure the security of user accounts.
First and foremost, each account is assigned a unique URL that is used to sign in.
Accounts also come with two-factor authentication for extra security, and each transaction has the added security that comes with using Bitcoin.
Lottery.Bitcoin.com Review Final Verdict
Lottery.Bitcoin.com is an exciting new offering in the online lottery world.
Though it does not currently support as many lottery games as some other more established websites, the ones it does offer are some of the biggest in the world.
The addition of two exclusive draws accessible only through Lottery.Bitcoin.com does somewhat make up for this.
However, the real advantage of this website is in its connection to the Bitcoin network and the extra security that comes with using the cryptocurrency.
Of course, this may actually present a barrier to access for many. But if you are already invested in the world of Bitcoin and Bitcoin Cash, this website might be perfect for you.