A somewhat new offering in the lottery world, Eurojackpot has quickly gathered a loyal following of players. With low odds and a format that is designed to have as many winners as possible, this lottery is available across many European countries. In this Eurojackpot lottery review, we'll tell you everything else you need to know about this increasingly popular lotto game.
About Eurojackpot
Launched in 2012, Eurojackpot is available in 18 countries across Europe. Though it took some time for the lottery to get up and running-it was originally proposed in 2006-the success of competitor EuroMillions prompted officials from Denmark, Italy, Finland, Germany, Slovenia and the Netherlands to band together to create this transnational offering.
More countries have joined since the initial negotiations, and the participating countries now includes Croatia, Czech Republic, Denmark, Estonia, Finland, Germany, Hungary, Iceland, Italy, Latvia, Lithuania, the Netherlands, Norway, Slovakia, Slovenia, Spain, Sweden, and Poland. In total, Eurojackpot is available to an audience of approximately 300 million across all participating countries.
Eurojackpot Draws
Eurojackpot draws consist of 5 numbers chosen from a main ball pool and 2 additional numbers from a supplementary ball pool, called the EuroNumbers pool. The lottery takes place once a week in Helsinki, with numbers drawn at 21:00 local time every Friday. The numbers are selected from the Pacquerette machine, and the winning lottery tickets are evaluated in Germany and Denmark.
How to Play Eurojackpot
On one Eurojackpot line, players must choose five numbers from the main ball pool containing numbers 1 to 50, and have the option of choosing another two numbers from the supplementary pool containing numbers 1 to 10. Players can purchase tickets in any of the participating countries, or they can purchase lottery tickets from online lottery sites that operate privately.
The cost of one line is €2 (when purchased in one of the participating countries), and to win the jackpot players must match all seven of the drawn numbers. The minimum age to play is 18. When choosing numbers for lines, playing have two options: manually select the numbers or choose the Quick Pick option.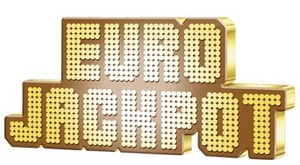 Eurojackpot Prizes and Odds
Eurojackpot has 12 prize tiers, with jackpots starting at a minimum of €10,000,000. Similar to popular American lotteries US Powerball and Mega Millions, the Eurojackpot maximum prize rolls over if there are no winners. Until January 2013, Eurojackpot also had a rolldown clause if there were no jackpot winners in 12 consecutive draws. This meant that if 12 weeks went by with no big winner, the jackpot would roll down and be split between the next tier where there is a winner. In lieu of the rolldown clause, Eurojackpot now caps its jackpot at €90,000,000.
The cap means that jackpots will never get as big as some other major lotteries, including its biggest European competitor EuroMillions. However, to compensate, Eurojackpot has much better odds of winning than its competitors. Here are the odds of winning per numbers matched:
| | | |
| --- | --- | --- |
| Numbers Matched | Odds of Winning | Estimated Winnings |
| 5 + 2 | 1 in 95,344,200 | Jackpot |
| 5 + 1 | 1 in 5,959,013 | €890,355 |
| 5 | 1 in 3,405,150 | €126,082 |
| 4 + 2 | 1 in 423,752 | €4,360 |
| 4 + 1 | 1 in 26,485 | €242 |
| 4 | 1 in 15,134 | €112 |
| 3 + 2 | 1 in 9,631 | €58 |
| 2 + 2 | 1 in 672 | €19 |
| 3 + 1 | 1 in 602 | €19 |
| 3 | 1 in 344 | €14 |
| 1 + 2 | 1 in 128 | €10 |
| 2 + 1 | 1 in 42 | €7 |
Claiming Eurojackpot Prizes
Eurojackpot winners have the option of choosing to collect their prize as an annuity or a lump sum. However, Eurojackpot officials say that participants who play Eurojackpot online will receive the lump sum. Online players will also not be subjected to taxes. Winners in a total of 11 countries are also not subjected to taxes. Residents of Croatia, Hungary, Italy, the Netherlands, Slovenia and Spain are subject to the tax laws of the participating country.
Notable Eurojackpot Winners
There have been a number of players that have won big with Eurojackpot over all the years it's been around. The cap amount of €90,000,000 has been won on four separate occasions, twice in Finland in August 2018 and February 2018, respectively, once in Germany in October 2016, and once in the Czech Republic in May 2015. With the cap in place and the odds as they are, it's pretty much a certainty that there will be many more big winners so long as this format continues.
Eurojackpot-Should You Play?
Though the Eurojackpot lottery caps its prizes at €90,000,000, which remains a life-changing amount of money to anyone lucky enough to win, the low odds of winning ultimately make this European lottery a challenging one to win. Nevertheless, it is one of the biggest lotteries in not just Europe but also the world and easily playable across multiple countries in Europe and online, so we see no reason why you shouldn't enjoy yourselves by participating in this credible lottery draw.