Every time a record-breaking jackpot is announced in the US, it seems everyone up north wants to know how to buy Mega Millions tickets in Canada. But when the jackpots can reach as high as US$1.6 billion, you can't really blame them. After all, the prizes of the biggest Canadian lottery winners ever have been much smaller-CA$70 million to be exact. While that kind of money might be enough to satisfy most people for life, the thrill of becoming one of the 2,208 billionaires in the world and therefore being in the top 0.00000028% of the world's population can certainly be appealing.
In the following guide, we'll explain how to buy Mega Millions tickets in Canada by examining the various methods that people use and recommend the one that we feel is ultimately the best.
Have an American Friend Buy a Ticket on Your Behalf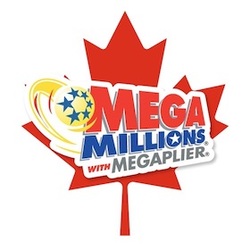 Got an American friend or family member who you trust with your life-and earnings? If so, then this is a pretty good method for getting yourself tickets to every insanely lucrative Mega Millions draw that takes place. The advantage is you don't have to travel anywhere or do much of anything really, other than wire this person some money or pay them back the next time you see them. Of course, if your numbers do win the jackpot and the sudden wealth within your friend's grasp goes to their head, there's no guarantee they won't disappear with your ticket and money.
Buy a Ticket by Travelling to the US Yourself
If you don't live too far from the Canadian/American border, you can just hop in a car and head straight to the first lottery ticket agent you find on the other side. While Canadians and all other visitors in the USA are 100% welcome to legally buy tickets to all major lotteries, including Mega Millions and the US Powerball, a law known as the "Immoral Articles Law" forbids people from carrying the tickets across the American border. Therefore, you'd be breaking the law taking your lotto ticket(s) out of the country and, in the event that you win something, back into it when you come to claim your Mega Millions winnings. Although the chances of you getting caught doing this are extremely slim-this has so far literally never happened to anyone-border security could in theory legally confiscate your ticket and possibly get you into all sorts of nasty trouble with Uncle Sam too.
Buy a Mega Millions Ticket from an Online Lottery Agent
Buying lottery tickets online from a third-party lottery agent has in recent years become an extremely popular method for Canadians, as well as countless other people from all over the world, to participate in international lotteries. With offices in many countries around the world, a legitimate lotto agent will go out and buy a physical ticket on your behalf and securely store it, along with all of the other customers' entries, in a safe until the time of the draw. Many of these companies scan the ticket for you so that you can conveniently access it through your player account on their website. If you win, you'll be automatically notified via email and/or your account the next time you log in.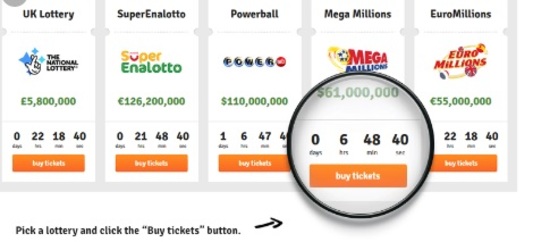 Play Through an Lottery Betting Site
Lottery betting sites work very similarly to online lottery agents, except that they don't buy physical tickets for you. Instead, they offer their customers the opportunity to bet on the outcomes of major lottery drawings the same way that people would bet on the outcome of a boxing match or horse race. While this might seem a bit sketchy at first, rest assured knowing that there are many extremely reputable companies that offer this 100% legal service and have paid out hundreds of millions of dollars to millions of lottery players. In fact, lotto betting companies that are licensed and insured can actually be more trustworthy than some lotto agents, which generally don't have to follow any regulations. Therefore, as long as you know which dodgy companies to avoid, this method is an excellent way to get in on the excitement of the world's largest lotteries, including Mega Millions. Some extra perks of lottery betting sites are they often charge less than lottery agents do and offer great promotions and bundles that add to the fun.
Buying Mega Millions Tickets in Canada - Conclusion
If you're a short drive from the US border or have a friend who you are absolutely confident won't run away with your prize money, then by all means, use either (or both!) of these methods the next time there is a major Mega Millions jackpot. But if you want to take advantage of the extreme convenience, great features and outright excitement that online lottery agents and lotto betting sites can provide, then give them a shot. We decided to do so years ago ourselves, and we've never looked back.