Formerly known as AutoLotto, Lottery.com is a mobile app and website that allows users to easily play and follow various US lotteries.
Lottery.com was created based on the idea that buying lottery tickets should be easier and more secure.
With Lottery.com, users can buy tickets instantly and not have to worry about checking the numbers. It also gives players the extra security of not having to worry about damaging or misplacing a physical ticket.
In this Lottery.com review, we'll tell you everything else you need to know about this website before signing up.
How Lottery.com Works
Unlike most other popular lottery websites, Lottery.com is primarily an app.
However, there is also a fully functional website where you can take advantage of all of the features the app has to offer.
Lottery.com bills itself as a lottery ticket management service. This means that when you buy a ticket through the app or website, one of their team members will purchase a physical copy of that ticket from the official retailer.
The website states that they store each ticket in a safe that is monitored 24/7.
If a player's ticket wins, their account is credited with the prize money. No commission is taken off prizes, though a small fee is taken with each purchase.
To start buying tickets through Lottery.com, players must first register for an account by inputting their personal information. This includes email address and phone number.
Once the account is verified, players can purchase quick pick tickets or manually select their lucky numbers for the lottery of their choice.
Players can buy up to 50 tickets per draw.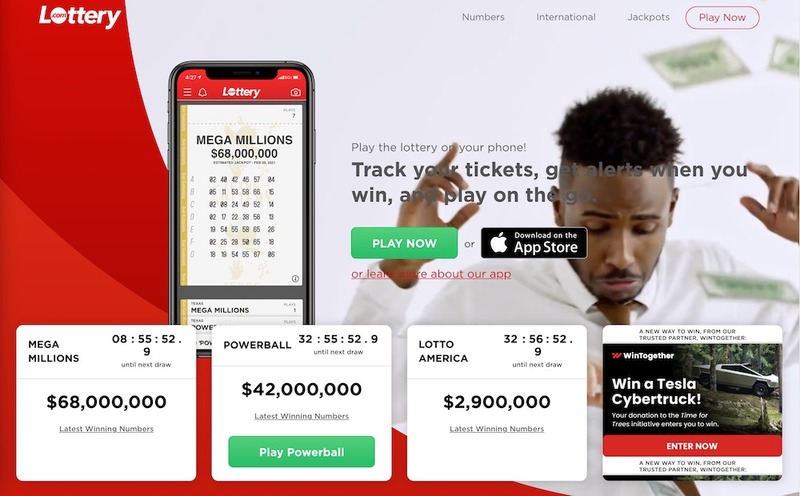 Features
Lotto results
Available in over 130 countries
Available in over 100 languages
Ease of Use
The Lottery.com website is very basic. This is perhaps because it is trying to mirror the ease and simplicity that users will find in the mobile app version.
Advertisements for the app are prominent throughout the website, making it clear that Android and iOS smartphones are its primary platforms.
The main homepage has great graphics, and upcoming jackpots are prominently displayed.
A navigation bar at the top-right of the screen has tabs for "Numbers," "International" and "Jackpots." All of these tabs lead to lottery results.
In the navigation bar there is also a "Play Now" button that takes users to an even more basic version of the site.
Once in this part of the site, users can click on a navigation icon at the top-left of the screen and see "Account," "Results," "Language," "Help" and "FAQ" tabs.
However, if you're hoping to join a lottery syndicate, you won't find it on Lottery.com.
Supported Lotteries
All or Nothing Evening
US Powerball
Lotto Texas
All or Nothing Night
All or Nothing Morning
All or Nothing Day
Texas Two Step
Cash 5
Mega Millions
Pick 3 Night
Daily 4 Day
Pick 3 Day
Daily 4 Night
Pick 3 Morning
Pick 3 Evening
Daily 4 Morning
Daily 4 Evening
Promos
At the time we were writing this review, Lottery.com did not have any promotions available to users.
Payments & Withdrawal Options
Payment and withdrawal options vary slightly depending on where players live.
Players in the US can put funds into their accounts using Mastercard or online banking. International players in over 130 other countries can fund their accounts using Mastercard or Visa.
If a user wins, funds will go straight to their account for prizes up to USD$599. Players can then use those winnings as credits toward more tickets or can withdraw funds using their payment method.
For prizes over USD$600, Lottery.com representatives will help the player through the claims process with the official lottery organization.
Customer Support
Players have a few options for customer support at Lottery.com.
First, for general information and issues, players can browse the FAQ section. While not extensive, it does cover many issues or questions players may have.
If the FAQ page does not have the information required, players can contact the Customer Happiness team via:
Is Lottery.com Legit?
Yes, Lottery.com is legit. It is based out of Austin, Texas, and is run by founder and CEO Tony DiMatteo.
In addition to offering players around the world the chance to buy lottery tickets for some of the most popular US lottery games, Lottery.com also prioritizes charitable giving.
Furthermore, the company runs the platform WinTogether.org, which offers charitable sweepstakes while offering donors the chance to win cash prizes.
Lottery.com Final Verdict
Lottery.com is a very simple, easy-to-use website for purchasing and keeping track of lottery tickets.
Though there aren't too many features compared to other lotto websites, it gives users who want to play US lotto games all that they need.
However, the language and regional accessibility are really what sets this app and website apart.