LotteryWorld.com is a lottery betting website that was launched in May 2020.
The site gives lottery players the opportunity to purchase lottery tickets for some of the biggest international draws.
LotteryWorld.com is owned and operated by Go East B.V., which describes itself as an international advertising company.
LotteryWorld appears to be a new type of venture for the company, and is the only lotto site they currently run.
However, the site is off to a strong start not even a year after launching.
In this LotteryWorld review, we'll explore all of the features of this website that make it worth trying.
How LotteryWorld.com Works
LotteryWorld.com is a lottery betting service. This means that players do not buy an actual ticket to a draw, but instead are betting on the outcome.
However, the user experience is very similar to any popular lottery website where tickets are sold.
Players still choose numbers for their bets in the same manner they would for a ticket. By doing so, they are betting that those numbers will be the winning numbers selected during the draw.
Another significant difference between LotteryWorld and lottery messenger services is that LotteryWorld is responsible for paying out all prizes.
If a jackpot is won, the company's insurers are responsible for the payout instead of the official lotto organisation.
To get started placing bets on LotteryWorld, players must first register for an account.
This involves inputting personal information like first and last name, email address, password and more.
Once the account is set up, players can place bets in the following ways:
Single Draw: Players choose their own numbers or select the Quick Pick option for up to four draws.
Subscription: Players place bets for multiple upcoming draws and save 10%.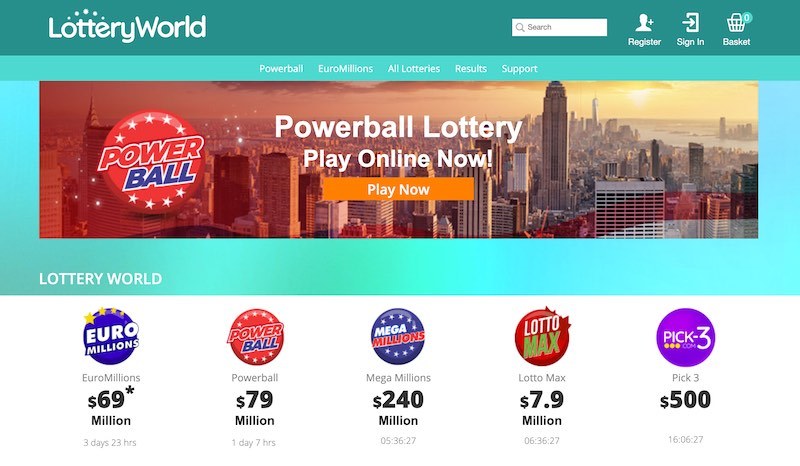 ,
Features
Subscriptions
Scratchcards
20+ lotteries available
Lotto results
Ease of Use
LotteryWorld.com is incredibly easy to use. In fact, it seems the website designers have settled for a straightforward approach over a flashy design.
The site has a simple colour scheme and sharp graphics. The most popular upcoming draws are all displayed on the homepage and large "Play" icons appear when hovered over.
Everything else users need to navigate the site can be found at the top of the screen.
The very top of the screen has a search bar, along with the "Register," "Sign In" and "Basket" buttons.
Just below is the navigation bar. From there, users can click to the most popular lotteries: Powerball and EuroMillions.
Also in the navigation bar are the "All Lotteries," "Results" and "Support" buttons.
One very curious thing about LotteryWorld is that although Scratchcards are available, they are only accessible through the search bar.
Perhaps this is because the site has simply not been updated to advertise this feature at the time of this writing. Or, this could be a simple growing pain from a new website.
At the time of this writing, there is no mobile app available. However, the website works very well in mobile browsers.
Supported Lotteries
EuroMillions

US Powerball

Mega Millions

Lotto Max

Canada Lotto 6/49

Pick 3

UK Powerball

Lotto China

Irish Lottery

Eurojackpot

Cash 4 Life

SuperEnalotto

German Lotto 6/49

Lotto America

Polish Lotto

Lotto India

Australia Powerball

OZ Lotto

Loto France

UK Lotto

Australia Lotto

Mega Sena

Austria Lotto 645

Loto Santiago

,
Promos
At the time we were writing this review, LotteryWorld.com unfortunately did not offer any promotions to users.
However, users do receive 10% off when they buying via subscription.
Payments & Withdrawal Options
LotteryWorld has limited options for depositing funds into users' accounts, though they say they are constantly updating their offerings.
At the time we were writing this, users could only use Interac, Visa and MasterCard to deposit and withdraw funds.
There are no fees associated with these methods, though it may take one to three days to process withdrawals.
The website prominently displays graphics for Neteller and Skrill, though these are not listed on their banking information page.
Customer Support
Players have a few options to pursue if they need support, including the "Support" page.
From the "Support" page, players can select a number of FAQ topics. These topics are very helpful in explaining general information regarding how the website works.
If a user needs further assistance, they can contact LotteryWorld.com via:
Live chat, available between 6:00 GMT and 22:00 GMT
Email at support@lotteryworld.com
Telephone at +44 1277 424804, available between 6:00 GMT and 22:00 GMT
Is LotteryWorld.com Legit?
Yes, LotteryWorld.com is legit.
The website is owned and operated by Go East B.V., which is registered in Curacao.
LotteryWorld also guarantees payment if prizes have been won, as they must comply with the Curacao Gaming Authority.
LotteryWorld.com Final Verdict
LotteryWorld.com is a very new lottery betting website that shows a lot of promise.
Though the website doesn't have flashy graphics or the most features, it offers a decent amount of international lotteries.
The added bonus of scratchcards, subscription discounts and easy customer support makes it far from the worst lotto websites available.
While there is already reason enough to give LotteryWorld a try, we are interested in seeing how it might grow.