Lottoland is an online lottery website that lets players participate in a vast amount of lotteries from all over the world.
The site's offering of supported lotteries is very impressive, and in this Lottoland review we will dive in deep to see if the rest of the site is just as promising.
How Lottoland Works
Lottoland is a lotto betting service, which means it facilitates online betting on the outcomes of various international lotteries.
When players purchase lottery entries with Lottoland, they are not actually buying lines from the official lottery organization. In fact, they are not really buying lottery tickets at all.
Instead, users are betting that the numbers they selected are the ones that will be picked in the official draw.
If they win, their payout will match that of the official lottery but will be paid out by Lottoland or its insurer.
Anyone interested in playing lotto online with Lottoland first has to register for an account.
This involves entering some personal information, such as email address, first and last name, date of birth and home address, as well as creating a password.
Once an account is verified, players can deposit money into their account using one of the payment methods that we'll be discussing below.
Afterward, players simply have to decide which games and lotteries they want to play.
Lottoland offers the following playing methods for their lotteries:
Single draw: Select your numbers or choose "quick pick" to have your numbers for a single draw randomly chosen for you.
Multi-draw: Purchase bets for multiple draws for whatever duration of weeks you prefer.
Subscription: Automatically purchase all entries for a specified period of time.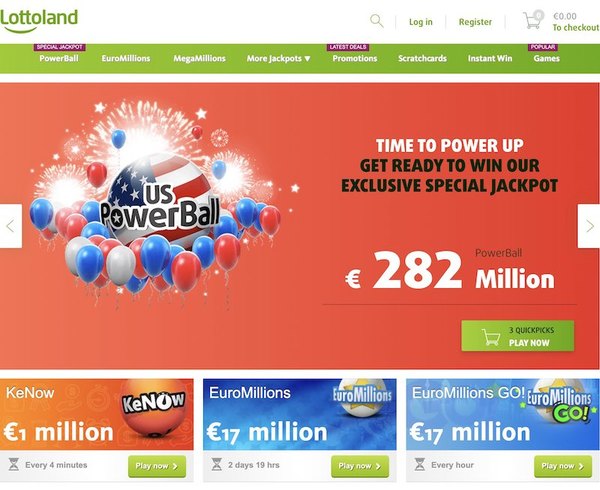 Features
Subscriptions
Online scratchcards
Instant-win games
Tabletop games
Available in 11 countries
Ease of Use
Lottoland's layout is easy to understand and looks great.
The homepage is filled with bright graphics that advertise the biggest online lottos, scratchcards and other games.
The navigation bar at the top of the screen has tabs for the most popular lottos. It also provides easy access to More Jackpots, Promotions, Scratchcards, Games and Instant Win.
There are also tabs on the right side of the screen for Live Chat and Support & FAQ for any users who may need assistance.
Lottoland has a free mobile app for both Apple and Android users. Apple users can download it from the App Store, but Android users must download a direct APK from the Lottoland website.
The app allows players to do everything they're able to on the site and is an excellent option if you want to play on the go.
Supported Lotteries
US Powerball
Mega Millions
Cash4Life
EuroMillions
EuroMillions GO!
Eurojackpot
Keno 24/7
Bitcoin Lotto
German Lotto
SuperEnalotto
French Lotto
Swedish Lotto Plus
German Keno
Irish Lotto
Mini Lotto
Austrian Lotto
El Gordo de Verano
Mega-Sena
Hong Kong MK 6
Sunday Lotto
Sat Jackpot
Polish Lotto
Multi Keno
KeNow
Brazil Quina
SA Lotto
Mexico Melate
SA Powerball
Christmas Lottery
Mega 2020
El Niño
WorldMillions
Promos
One of our favourite features of Lottoland is their many promotions.
The site has so many going on that "Promotions" gets its own featured tab in the navigation bar.
There, players can find deals such as discounted entries, combo prices, subscription offers, free spins and scratchcard bundles.
Payment & Withdrawal Options
Lottoland offers a few different options for players to deposit money into their accounts.
Visa, MasterCard, Neteller, Skrill and MuchBetter are all supported and can be used at checkout.
Players can also use bank transfers, but only as a means to deposit funds because this method cannot be used at checkout.
Players who wish to withdraw funds from their Lottoland account to their registered bank card or bank account must contact customer service through any of the support methods listed below.
Customer Support
Lottoland has many avenues for players to have their questions answered.
The FAQ page has over 100 articles covering many topics, which are searchable from the main FAQ page.
Players who cannot find the answer to their question or who wish to withdraw funds can reach out to customer support in the following ways:
Live chat, available 1:00 am (CEST) Monday to 6:00 pm Saturday, and 1:00 am Sunday to 6:00 pm Sunday
Phone at 0203 793 6169, available Monday to Friday from 10:00 am to 11:00 pm
Email at support@Lottoland.co.uk
Filling out the contact form on the website
Is Lottoland Legit?
Yes, Lottoland is completely legit and safe to use.
The company is licensed and regulated by the UK Gambling Commission as well as the Republic of Ireland, the Government of Northern Territories and the Gibraltar Betting and Gaming Association.
The site also uses SSL encryption to keep your personal information secure.
Moreover, it is regularly featured, discussed and advertised in mainstream media.
Lottoland Review Final Verdict
If you're looking for variety, Lottoland is one of the best online lottery services out there.
They offer tons of different lotteries to participate in as well as many games and scratchcards to keep you entertained. The main thing we were disappointed by is that Lottoland doesn't offer syndicate play.
However, that is a small complaint compared to what you do actually get out of this great lotto website.