Owned by The Lotter Enterprises Limited, LottoSmile.in is the Indian brand of the well-respected online lottery website called theLotter, owned by the same company.
Founded in 2002, the site offers a wide variety of supported lotteries and boasts many winners world-wide.
In this LottoSmile review, we'll give you all the details on how to play the lottery online with this popular site.
How LottoSmile.in Works
LottoSmile is a self-described lottery messenger service, which means that agents employed by the site purchase official lottery tickets on behalf of users.
With over 20 local offices around the world, each online purchase represents an actual physical ticket purchase.
Once you buy a ticket, LottoSmile.in uploads a scanned copy of the ticket into your account so you can feel confident that you are getting exactly what you paid for.
Before you can start purchasing tickets, you need to sign up for an account.
Signing up is easy and simply requires entering some personal information, such as email address, country of residence, name and a password.
Once your account is active, you can start purchasing online lottery tickets for some of the most popular international lottery games.
LottoSmile gives users a few different purchasing options:
Standard: Purchase 1, 2, 3, 5, 7, 10, 15, 20 or 25 lines for a single draw by selecting your own numbers or choosing the Quick Pick option
Syndicate: Join a group of fellow lotto players and purchase a large number of lines to improve your odds
Bundles: Purchase a combination of personal (standard) and group (syndicate) entries
Multi-draw: Purchase tickets for 5, 10, 15, 25 or 52 weeks at a time at a discounted rate
Subscription: Start a subscription for automatic purchasing for future draws
Systematic: Purchase every combination of a selected set of numbers to improve your odds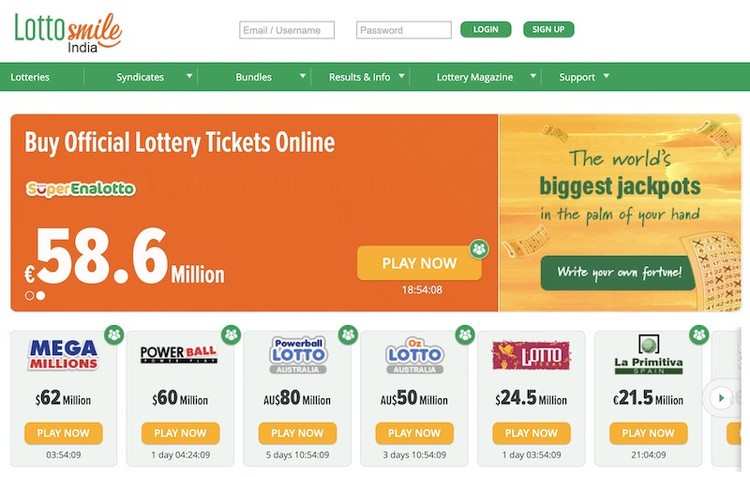 ,
Features
Subscriptions
Syndicates
Bundles
Systematic play
VIP Club
Lotto results
Ticket scans
Ease of Use
LottoSmile.in is very easy to use, with a straightforward web design that all users should be able to navigate without issue.
The homepage shows some of the biggest upcoming lotteries, recent draw results and a great explanation of how the site works and what users can expect.
Users can easily find what they need on the site by using the horizontal navigation bar at the top of the screen. This bar features tabs for "Lotteries," "Syndicates," "Bundles," "Results & Info," "Lottery Magazine," and "Support."
Users can also quickly access customer support and see current promos through the "Live Chat" and "Special Offers" tabs that hover on the right side of the screen.
For users who want to play on the go, LottoSmile offers three dedicated mobile apps: an Android app, an iPad app and an iPhone app.
By downloading these apps, players can get push notifications about lotto results, jackpot alerts and promos and special offers.
Even without an app, users can comfortably browse the mobile-friendly site through their smartphone or tablet web browser.
Supported Lotteries
Mega Millions

Powerball

SuperStar

SuperEnalotto

EuroMillions (Spain)

EuroMillions (Austria)

Eurojackpot

El Gordo

Lotto Texas

Lotto Texas Extra

Superdraw Saturday Lotto (Australia)

Lotto 649

Loto 7

Cash4Life (United States)

Loto 6

Powerball Lotto (Australia)

Powerball (New Zealand)

La Primitiva

Lotto (Spain)

Lotto (Ireland)

Lotto America

Saturday Lotto

Lotto (New York)

Lotto (Poland)

Ontario 49

Oz Lotto

Daily Million

MillionDAY

Quina

BonoLoto

Monday Lotto (Australia)

Wednesday Lotto (Australia)

Clasico Loto

Mega Sena

Texas Two Step

Mini Lotto (Poland)

Mini Loto (Japan)

Take 5

Cash Five

Lotto (Austria)

Baloto

Loto (France)

Lotto (Germany)

Toloto

Loto Maxima

Megalot

Super Loto (Ukraine)

,
Promos
LottoSmile offers a number of promos that help users save money as they play.
Some of these special offers seem to be permanent, such as discounts of up to 25% when purchasing multi-draw tickets, and receiving every 10th draw free in a subscription.
Others, such as discounts and cashback rewards, appear to be more random and can be seen through the Special Offers tab at the right side of the screen.
The LottoSmile.in website does not appear to offer a welcome bonus at this time, though new users may be able to find these bonuses offered through third-party websites.
In addition to the above-mentioned deals, users can save even more by joining the VIP Club.
VIP Club members receive exclusive promotions, 24/7 account assistance, and can collect loyalty points to reach certain VIP Levels that entitle them to discounts of up to 20%.
Payment & Withdrawal Options
LottoSmile makes it easy for users to deposit money into their accounts using several payment options.
The website supports Visa, MasterCard and Diners Club credit cards, which are available in eight currencies (US$, €, £, AUD, руб, CAD, CHF, ZAR). It also accepts WebMoney, Bleue, CartaSi and Postepay, which support fewer currencies.
There is no minimum deposit requirement, though there is a maximum of US$5,000 for Visa, MasterCard, Diners Club and WebMoney.
To add money to your account, simply go to the "Deposit" page once you are signed in.
Players also have a few options for withdrawing funds from their LottoSmile.ie account to their personal accounts.
If users have registered their Visa, MasterCard or Diners Club cards as their payment method, then they can withdraw funds to these accounts.
However, there is a small minimum withdrawal amount of US$1 and a maximum of US$1,000 for Visa and MasterCard, and US$2,000 for Diners Club.
Users can also withdraw funds directly to their personal bank account via bank transfer.
Bank transfer minimums and fees may vary depending on the bank, and there is a maximum withdrawal amount of US$50,000.
For assistance transferring more than the maximum amount allowed, users will have to reach out to customer support.
Customer Support
Players who have questions or need support have a few options.
First, they can try the detailed FAQ page, which covers many common questions.
If they cannot find answers there, they can use the following methods to contact customer support:
Live chat, available 24/7 in several languages
Email via online form, which promises a response in less than 24 hours
WhatsApp at +356 79 36 35 36
Is LottoSmile.in Legit?
Yes, LottoSmile is legit. The website is operated by The Lotter Limited, a reputable name in the online lottery business with decades of experience in the industry.
Additionally, all personal information is encrypted using GeoTrust 128-bit SSL security, so users can feel safe.
LottoSmile.in Review Final Verdict
LottoSmile is an impressive website run by one of the most trusted lottery operators in the industry.
Users have access to a large selection of lotteries and can choose a variety of purchasing options that suit their preferences.
Among these options are systemic and syndicate play, which can greatly help increase their odds of winning.
In fact, LottoSmile's syndicates are among the best lottery syndicates we've ever seen, offering many lines per draw.
However, it is somewhat disappointing that there are no online scratchcards or other games available, as these would add a lot.
Nevertheless, there's no doubt that this is one of the top options available to individuals looking to buy lottery tickets online.