Launched in 2015, LottosOnline.com is a trade name of Marvicap Limited, a company based in Cyprus that operates independent lottery services under many brands.
Though this site is relatively new, it offers a simple, straightforward service that lets people from around the world play international lotteries online.
In this LottosOnline.com review, we'll explain how the site works and how you can join it and have a chance to win millions.
How LottosOnline.com Works
LottosOnline.com is an independent lottery messenger service, which means they employ local agents in all countries where they offer a supported lottery.
Once you purchase a ticket through the site, a local agent purchases a physical copy of your ticket from an official retailer.
Agents also scan the physical ticket so that you can rest assured that your actual ticket corresponds with the numbers that you've selected online.
If you'd like to buy lottery tickets from LottosOnline.com, you must first open an account.
Accounts are free to open and the sign-up process is easy. Simply click the "Open Account" button in the top-right corner of the screen.
You will then be asked to enter some personal details, including your first and last name, email, contact number, and country of residence.
Once your account is activated, you can start buying online lottery tickets for international games that would otherwise be unavailable to you. Players must purchase a minimum of three tickets per lottery at a time.
The website offers the following purchasing options when buying tickets:
Single Draw: Select 3, 5, 10, 15, 25, or 50 tickets for a single draw and choose your numbers manually or by Quick Pick
Multi-Draw: Select a minimum of 3 tickets for 4, 8, or 16 draws at a time at a discounted price
Draw Date: Select the draw date for your tickets, choosing from the most recent to up to 25 draws in advance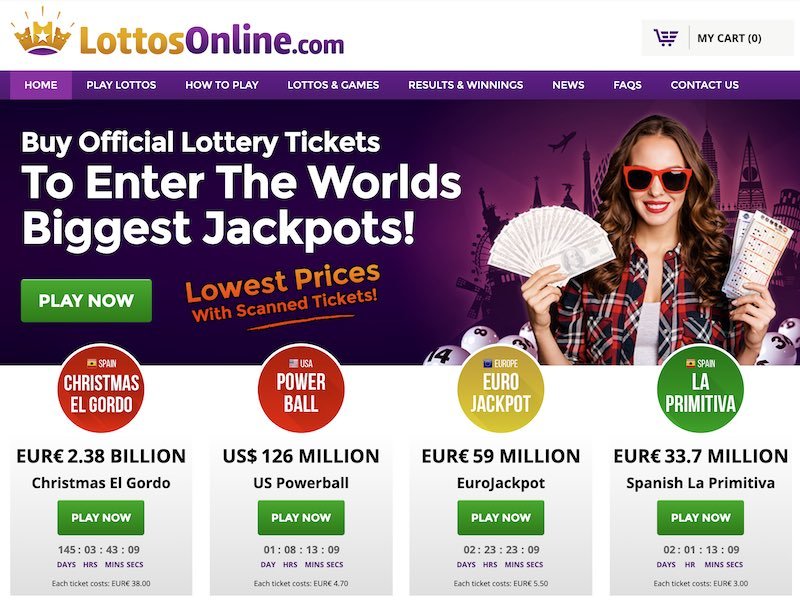 Features
Loyalty program
Ticket scans
Multi-draw discounts
Lotto results
Ease of Use
LottosOnline.com has a very straightforward web design that makes it easy to navigate.
The homepage is bright and inviting, with clear graphics and easy access to some of the biggest upcoming lottery draws.
A scroll down the homepage also shows a quick explanation of how the site works and features some of the benefits of opening an account.
Users can easily explore the rest of the website by using the navigation bar at the top of the homepage. The bar contains the tabs "Play Lottos," "How to Play," "Lottos & Games," "Results & Winnings," "News," "FAQs," and "Contact Us."
Unfortunately, LottosOnline.com does not offer any dedicated mobile apps at this time.
However, the website is mobile-friendly, so users are still able to easily browse it using their preferred web browser on their smartphone or tablet.
Supported Lotteries
US Powerball
Mega Millions
California SuperLotto
Lotto America
EuroMillions
Eurojackpot
SuperEnalotto
El Gordo
La Primitiva
BonoLoto
UK Lotto
Irish Lotto
Australia Powerball
Oz Lotto
Australia Saturday Lotto
Australia Mon/Wed Lotto
Spanish Raffle
Promos
It does not appear that LottosOnline.com has any promos or bonuses available at this time.
However, the website does offer a VIP rewards program to help players save money.
To qualify for VIP player status, users must spend a minimum of €50 in a 30-day period.
Once a player has achieved VIP status, they will receive 10% cash back on all purchases for the next 30 days. These will appear directly in the players' account balance.
A player will continue to qualify as a VIP so long as they continue to spend the €50 minimum within a period of 30 days.
Payments & Withdrawal Options
LottosOnline.com offers users two different ways of paying for their purchases.
Players can choose to load funds onto their accounts and top them off any time the funds get too low. Or they can simply pay at the checkout for individual purchases.
However, the site offers limited payment methods, stating they only accept credit and debit card payments.
If a player is lucky enough to win, the winnings are immediately credited to the player's account balance.
Players can then either use the winnings to make more purchases, or they can request to transfer the funds directly to their bank account.
Fortunately, LottosOnline.com claims all smaller winnings on behalf of players so that they can cash in their prizes without having to leave their house.
The only time a user may have to claim winnings in person is if they win big.
The website also guarantees payouts, so players can rest assured that they will always receive the winnings they're entitled to.
Customer Support
LottosOnline.com has a fairly extensive FAQ section that will answer most of the basic questions people might have about how the website works.
If that page does not give the answers users are looking for, they can also reach out to customer support using the following methods:
Unfortunately, LottosOnline.com does not offer a live chat function.
Also, the site's customer service hours of operation are limited to Monday through Friday from 10 AM to 5 PM (EET).
Is LottosOnline.com Legit?
Yes, LottosOnline.com is a legitimate website that is run by Marvicap Limited, a registered Cyprus-based company that runs other lottery-affiliated brands.
The website also ensures that users' information is secure by using high-level SSL security.
LottosOnline.com Review Final Verdict
LottosOnline.com is a straightforward website that gives users exactly what they promise-access to some of the most popular lottery games in the world.
However, the website does not offer much more than that. Compared to some of the bigger names in the lottery messenger service business, LottosOnline.com has a lot of room for growth.
However, if you're looking for a place to buy lottery tickets online without any fuss or fanfare, LottosOnline.com could be a good option for you.
Just make sure you check out the competition first to see what you might potentially miss out on.