LottoStar is an online lottery service based in South Africa.
The website allows users from all over the Southern African Development Community (SADC) region to participate in international lottery draws.
In this LottoStar review, we'll explore how the website works, how you can sign up and how it compares to other online lottery websites.
How LottoStar Works
LottoStar is a fixed-odds lotto betting service, which means the company doesn't actually sell lottery tickets.
When players purchase lottery lines, they're placing a bet on that particular draw.
However, the process of buying entries is almost identical to buying tickets, as players either manually choose their lucky numbers or select the quick pick option.
The key difference is that users are betting that the numbers they choose are the ones that will be picked in the official draw.
If they're correct, players will receive the prize amount that corresponds with LottoStar's prize chart for that particular draw. All prizes are paid out by LottoStar or their third-party insurer.
To begin betting on lotto outcomes, players have to register for an account.
This requires inputting some personal information like a mobile phone number, email address, South African ID number or other identification, and first and last name.
Once the account is verified, users can deposit money into their account and begin purchasing entries.
After selecting the draw date, players can choose between one and 200 entries per draw.
They can also select the "Max All" option, which automatically selects an entire row of entries with a max boost for all available draw dates. This also adds a bonus ball for each entry.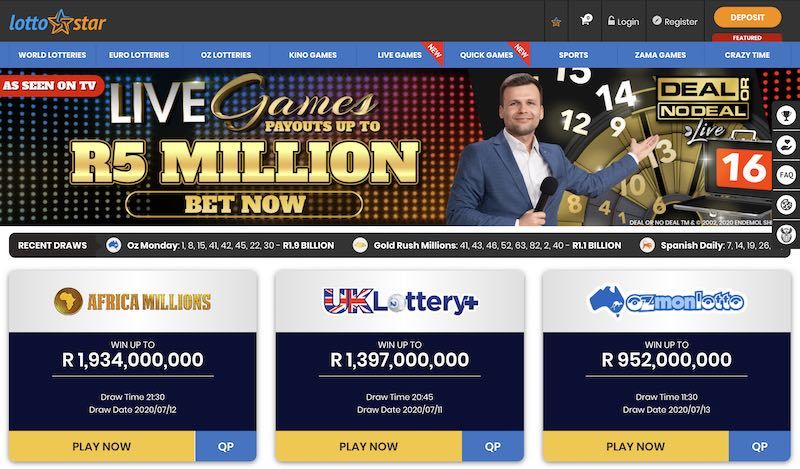 Features
Live games
Zama games: Draws that take place every five minutes, with jackpots as high as R1 million.
Instant win games
Sports betting: Place bets on major sports events, including soccer, tennis and rugby matches and Formula One races.
Lotto news
Kwikies: Draws that take place every two seconds, with jackpots going as high as R10 million.
Ease of Use
The LottoStar website is bright and colourful, but not to the point of distraction.
The homepage is very straightforward, displaying the most popular lotto draws along with their current jackpot and a countdown to draw time.
The navigation bar separates the available lottos into three categories, "World Lotteries," "Euro Lotteries," and "OZ Lotteries."
The navigation bar also has tabs for the other betting games the website offers: "Royal Suite," "Live Games," "Quick Games," "Sports," and "Zama Games."
There is also a convenient "Deposit" button at the end of the navigation bar.
There is currently no mobile app for users to play on the move. However, the website is optimized for mobile, so players shouldn't have any issues accessing it from their smartphones.
Supported Lotteries
Africa Millions
UK Lottery
OZ Mon Lotto
Gold Rush Millions
SuperEnalotto
SetForLife
OZ Sat Lotto
OZ Wed Lotto
EuroMillions
OZ Powerball
Eurojackpot
US Powerball
Spanish Daily
Mega Millions
OZ Lotto
Promos
LottoStar offers many promotions and bonuses to their players.
These include deposit bonuses, where players can occasionally get a percentage of their deposit credited back to their account.
We also really like their "Bet X get Y" promotions, where players can get a specific reward for placing a certain bet (i.e., bet one game get one free).
Players can receive freebies for participating in "Bet X get Y" promos as well.
Payment & Withdrawal Options
Players have multiple payment methods to choose from to deposit money into their accounts and purchase entries.
This includes Visa and MasterCard, direct bank transfers, EasyPay, Payfast, SnapScan and more.
Customer Support
LottoStar has a helpful FAQ page that visitors can look at for more information about the website.
If players need additional assistance, they can reach out the LottoStar's call centre through the following methods:
The call centre's hours of operation are Monday to Sunday from 7 am to 10:30 pm (CAT).
Is LottoStar Legit?
Yes, LottoStar is a legit company that you can trust.
It is registered as LottoStar (Pty) Ltd. and is licensed and regulated by the Mpumalanga Economic Regulator.
LottoStar Review Final Verdict
LottoStar is a great betting site that allows residents of the SADC region to play the lottery online.
Though we'd love to see the site offering subscription play and syndicates, it makes up for it in other ways.
LottoStar offers numerous ways for users to win big, aside from participating in online lottery betting. Especially its vast selection of instant games, sports betting and mini draws.