Postcode Lottery UK, also called the People's Postcode Lottery, is a popular subscription lottery. It allows players across Britain to participate in online lotto draws while also giving back to a good cause.
Unlike other online lottery services, Postcode Lottery UK does not offer local or international lotteries. Instead, it uses the money from the subscription fee to put on their own draws.
In our People's Postcode Lottery review below, we'll explain how this lotto works and what you can expect if you subscribe.
How People's Postcode Lottery UK Works
The Postcode Lottery is a subscription lotto wherein players pay a fee of £10 a month and are eligible to win daily prizes based on their postal code.
Instead of drawing a random set of lucky numbers to determine the winner of a jackpot, the UK Postcode Lottery selects postcodes. Every player who lives at that postcode receives a prize.
The money collected from subscribers doesn't just go toward draw payouts. A portion of the proceeds goes to charity.
To be eligible to win Postcode Lottery prizes, users must subscribe.
This involves filling out personal information such as first and last name, date of birth, address and postal code.
This service requires a bit more personal information than other online lottery sites typically ask for. But that's because winners are determined based on their postcode.
When signing up, players can choose between participating in one, two or three subscriptions, each costing £10 a month.
Each ticket increases the amount you could win. For instance, if you play with two tickets and win as part of a £30,000 draw, then you'd collect £60,000.
The People's Postcode Lottery offers three types of draws, and subscribers are eligible to win in each draw. The draws are:
Saturday and Sunday Street Prizes: Weekend draws with £30,000 prizes. One postcode area is selected, and each ticket wins £30,000.
£1,000 Daily Prize: Daily draws with £1,000 prizes. Twenty postcode areas are chosen, and each ticket wins £10,000.
£3 Million Postcode Millions: Monthly draw with a £3 million jackpot. One postcode area is selected, and each ticket wins a share of the prize.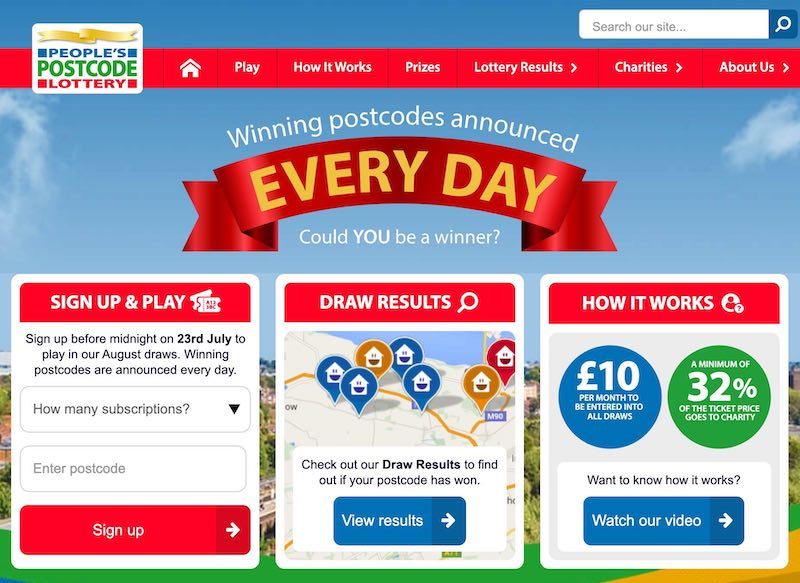 Features
A minimum of 20 draws per month
Automatic subscription
Recent winners
Ease of Use
Compared to other online lottery websites, the People's Postcode Lottery UK site is a little overwhelming. This is because there is more information to take in.
However, once you have an understanding of how this lottery functions, the website is easy to navigate.
Visitors can sign up for the subscription right from the homepage, and existing players can easily check if their postcode is a winner as well.
The navigation bar leads visitors to many pages with useful information, including the "Play," "How It Works," "Prizes," "Lottery Results," "Charities," and "About Us" pages.
There are currently no mobile apps for Postcode Lottery UK. However, subscribers can easily check on their account and recent results through their mobile browser.
Supported Charities
Each of the draws from the People's Postcode Lottery supports a different charity, with the charity receiving a minimum of 32% of each entry sale.
These also comprise category trusts consisting of multiple smaller charities.
The supported charities and trusts number over 50 in total and include the Royal Voluntary Service, UNICEF UK, War Child, British Red Cross, Amnesty International UK and Postcode Animal Trust.
Promos
Postcode Lottery UK does not currently have any promos or registration bonuses.
Payment & Withdrawal Options
The People's Postcode Lottery accepts limited payment options, as the payment method must support automated monthly debits. The supported methods are PayPal, Visa via PayPal and Direct Debit.
Lucky winners of the Street Prize draw will receive a knock on the door and have their cheques delivered in person.
Winners of the other draws will be notified by post, email, phone or text message.
Players who pay with Direct Debit will have their winnings transferred to their bank within 28 days.
Players who pay with other methods may need to contact the support team to arrange for the money to be transferred.
Customer Support
Users who have questions about how the Postcode Lottery UK works can visit the extensive FAQ page.
If they cannot find the answers to their questions there, then they can reach out to the customer experience team in the following ways:
The Postcode Lottery helpline is open from Monday to Friday between 09:00 to 21:00, and from Saturday to Sunday between 09:00 to 17:00.
Is Postcode Lottery Legit?
Yes, the Postcode Lottery is legit! It is incorporated in England and Wales as Postcode Lottery Limited, which is licensed and regulated by the strict UK Gambling Commission.
UK Postcode Lottery Review Final Verdict
The People's Postcode Lottery is different from your typical online lottery website.
The lottery serves a particular purpose, and, as such, is unfortunately only available to residents of the UK.
However, we think it's a great way to participate in the lottery while also giving back to the community and the world via charity.