People who win the lottery in their early years have the fantastic advantage of having many years ahead of them to enjoy their winnings and newfound financial freedom. However, some winners are a bit more advanced in their years and need to be extremely careful about any people who claim they want to help them protect their investments. Such is the story of Gloria Mackenzie, a woman who made the mistake of trusting somebody with her lottery fortune.
Life Before the Win
Gloria Mackenzie lived a straightforward life with her World War II veteran husband. Before retirement, she worked as a teacher at East Millinocket located in Maine. Unfortunately, as does happen at a certain age, her husband passed on, and Gloria decided to relocate to a popular retirement spot-Zephyrhills, Florida.
Buying the Winning Ticket
After moving to her new home at the age of 84, Gloria developed the habit of purchasing a Powerball Quick Pick ticket each day. On the day that she purchased her winning ticket, however, she was standing in line at a Publix Supermarket behind Mindy Crandell and her ten-year-old daughter. Mindy, being kind and taking Gloria's age into account, allowed the older lady to move ahead of her.
Acting out of the ordinary on this occasion, Gloria purchased five Quick-Pick tickets, investing a total of $10. The night of the draw on Wednesday May 19, 2013, Gloria stayed up late to watch the draw happen live. By her own admission, she knew she had won before even checking her ticket.
Gloria's Windfall Jackpot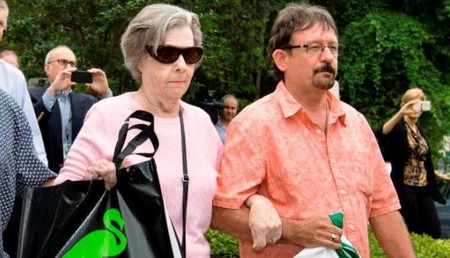 Gloria was, of course, correct and set a record for winning the biggest jackpot in history to be won by one person (at the time). She also became the second-oldest person ever to win the lottery. All this was thanks to the fact that the jackpot that she won was a staggering $590 million.
Gloria was advised to take the lump-sum payout because of her age and ended up bagging $370 million (or $278 million after taxes).
The Generous Giver
Gloria immediately wanted to share her good fortune. She started by splitting half of her winnings with her son, Scott. She also founded the Gloria Mackenzie Foundation-an organisation that helps provide opportunities for gifted students. In addition to this, she donated a great deal of money (estimated at around $2 million) to the school where she used to teach.
How Things Went South
Gloria's son soon suggested the financial services of his financial advisor, Hank Maddon. Gloria, trusting her son, agreed to meet with Hank and soon invested the bulk of her money using his financial services. However, by 2019, Gloria had had enough.
Reports soon started flooding the news that Gloria was suing not only Hank Maddon but also her own son, Scott. What came to light is that the money that Gloria had invested using Hank's services had been placed into a bank account and was doing nothing other than earning an incredibly modest 0.8% interest. Hank, on the other hand, was very quick in claiming his $2 million in advisory fees. This fee was supposed to cover his time spent on investing the money-something that never actually happened. At present, Hank is being charged with taking advantage of the elderly, and the court case is still ongoing at the time of this article.
Scott, who is also being sued by his dear old mum, is being accused of living off of his mother's money and by making bad investments with it. Scott has not kept quiet through all this and has openly stated that his mother is simply bitter because she expected her investment to be worth more than it currently is.
Into the Future
Currently (or should we say, at the time of this article), the court cases are still ongoing, and there is no verdict yet in what the courts will find. While we do sympathise with Gloria, we do wonder if there was not a way to amicably settle her issues with her son and financial advisor without involving the courts-after all, it is family. However, time has shown us over and over again that when there is a large sum of money involved, things can get nasty very quickly-regardless of how closely related people might be. This is something that the husband of lottery winner Denise Rossi learned the hard way too.
We hope that the courts take into consideration that there is a mother and son relationship at stake here and that Gloria and Scott will one day be able to put all this behind them. Especially considering Gloria is now over 90 years old and may not have much time left with her son. Passing away with this unresolved would be a terrible way to go.