Buying lottery tickets is a fun pastime that could lead you to winning millions.
However, not everyone is lucky enough to win big-or win at all-with every draw. As such, the costs associated with playing the lotto can quickly add up.
That's why you should always keep your eyes peeled for cheap lottery tickets.
In this article, we'll tell you where to buy cheap lottery tickets and how to get the most for your money.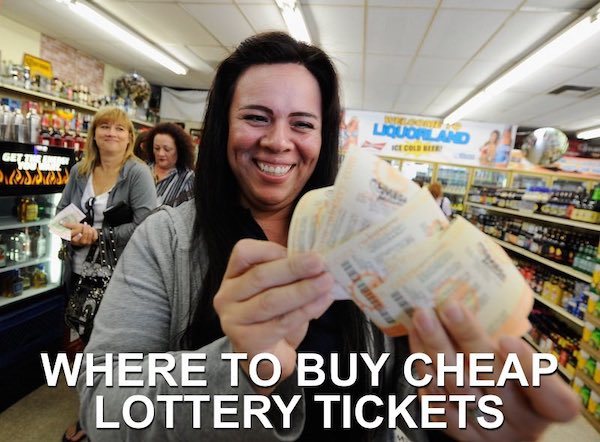 Option #1: Buy Cheap Lottery Tickets In-Store
The first place you should look for cheap lottery tickets is your local lotto retailer.
Most countries sell lottery tickets at convenience stores, gas stations, bars, or dedicated lotto stores.
Depending on the country, you should be able to find a pretty good selection of lotto games. This includes draw games, lotto scratch cards and pull-tab tickets.
The bigger the selection, the more variety you will find in the price of lotto tickets.
To find the best prices, your best option is to buy lottery tickets at an official in-store retailer.
Option #2: Buy Cheap Lottery Tickets Online Officially
So you want to buy lottery tickets but don't want to leave the house in search of the cheapest price? Then check online!
Many official lottery retailers now allow players to buy tickets online or through mobile apps. Some games, such as Lotto Lebanon, even offer ticket purchases through SMS.
When buying tickets online through the official retailer website, you will find the same prices that you get in-store.
Option #3: Buy Cheap Tickets from a Trusted Lottery Website
If you aren't impressed by the ticket prices for lotteries in your country of residence, there's still hope.
You can buy cheap lottery tickets for games from all over the world through third-party lotto websites.
The price of lottery tickets varies greatly across the world, even for large national games.
For example, a standard ticket for US Powerball costs US$2. Compare that to the standard prices for Polish Mini Lotto and Ukraine Super Loto, two of the cheapest games available.
Polish Mini Lotto costs PLN$1.25 per line, or approximately US$0.33. Ukraine Super Loto costs UAH$8 per line, or approximately US$0.29.
However, the odds and prizes associated with these cheaper lotteries also vary greatly compared to US Powerball.
The typical jackpot for Polish Mini Lotto is about US$84,000. Though tiny compared to many jackpots, the odds of winning it are 1 in 850,668-pretty awesome!
The minimum jackpot for Ukraine Super Loto starts at approximately US$107,000. The odds of winning that are 1 in 20,358,520-much tougher than Polish Mini Lotto.
Meanwhile, the minimum jackpot for US Powerball is currently US$20 million. The odds of winning the jackpot are very intimidating, though, at 1 in 292,201,338.
However, there is a small downside to buying international lottery tickets through third-party websites. These websites will typically charge an additional fee, so you will be paying more than the standard ticket price.
Additionally, there are two types of third-party lottery websites. Which type you buy lottery tickets from might affect the cost.
Lottery Agents
The first type of third-party website is a lottery messenger service. These sites purchase a physical ticket from an official retailer on your behalf. This means that you will be paying at least the standard ticket price plus an additional fee.
Lottery Betting
The second type of website is a lottery betting service. These sites accept bets on the outcome of certain lotto games. This means they can set any price they want for a ticket to the international lotto games they offer.
Keep in mind that many lottery websites offer welcome bonuses, referral rewards, subscription discounts and other promotions.
That means you could end up winning big on a discounted or free ticket-doesn't get much cheaper than that!
Price Comparison of the Most Popular Lottery Tickets
Third-party websites give you access to lotteries that might be cheaper than what you can buy from your own country.
However, you won't be able to buy lottery tickets from a third-party website at the same price as an official retailer.
Here is a breakdown of ticket prices for three of the most popular international lottos on some of the best third-party lottery websites:
| | | | |
| --- | --- | --- | --- |
| | US Powerball | Mega Millions | EuroMillions |
| Official Price | US$2.00 | US$2.00 | €2.50 |
| Multilotto | US$4.12 | US$3.53 | €3.50 |
| LottoKings | US$3.50 | US$5.50 | €5.10 |
| theLotter | US$5.00 | US$5.00 | €5.60 |
| Lotto Agent | US$4.98 | US$4.98 | €5.53 |
| WinTrillions | US$5.50 | US$5.00 | €10.21 |
Option #4: Buy Cheap Lottery Tickets Using Lottery Syndicates
If your goal for buying cheap lottery tickets is to win big, then you need to play smart.
There are a lot of things to consider when buying tickets. This includes ticket price, estimated jackpot and the odds of winning.
We all know that the only guaranteed way to improve our odds of winning a jackpot is to buy more tickets. That means that sometimes the smartest and cheapest way to buy tickets is to join a lottery syndicate.
In a syndicate, you get to split the cost of buying more lottery tickets with other members of the syndicate.
The only downside to this is that you also have to split the cost of any prizes you win. But that's a small price to pay for significantly improving your odds.
Here's a breakdown of the improved jackpot odds offered by a few of our favourite syndicates:
| | | | |
| --- | --- | --- | --- |
| | Powerball | Mega Millions | EuroMillions |
| Regular Jackpot Odds | 1 in 292,201,338 | 1 in 302,575,350 | 1 in 139,838,160 |
| theLotter Syndicate Odds | 1 in 1,461,007 | 1 in 1,512,877 | 1 in 2,796,763 |
| LottoKings Syndicate Odds | 1 in 8,348,610 | 1 in 6,577,725 | 1 in 2,542,512 |
| LottoGo Syndicate Odds | 1 in 29,220,134 | 1 in 30,257,535 | 1 in 13,983,816 |
| Lottoland Syndicate Odds | 1 in 579,765 | 1 in 600,348 | 1 in 277,457 |
Keep in mind that each of the above syndicates offers a different number of lines (how many tickets are purchased) and shares (how many people the total price is split by).
Some of the syndicates have as many as 1008 lines and 250 shares. Others have as few as 10 lines and 50 shares.
Therefore, this is what each one ends up costing per line:
| | | | |
| --- | --- | --- | --- |
| | Powerball | Mega Millions | EuroMillions |
| Official Price | US$2.00 | US$2.00 | €2.50 |
| theLotter | US$0.07 | US$0.07 | €0.30 |
| LottoKings | US$0.77 | US$0.33 | €0.15 |
| LottoGo | US$0.47 | US$0.47 | €0.40 |
| Lottoland | US$0.10 | US$0.10 | €0.08 |
While the cheapest ones obviously look the most appealing, keep in mind they might also be the ones that are split by the most people. Therefore, any prizes won by the syndicate will also need to be split.
Nevertheless, lottery syndicates are by far the cheapest way to buy lottery lines and the best way to increase your chances of winning.
If you want to give them a try, it is easy to join lottery syndicates via most third-party lottery sites-at least the ones we recommend.
Conclusion
There are many places where you can buy cheap lottery tickets.
Whether you want to browse the selection at your local convenience, play an international favourite or join a lottery syndicate, you have options!
Regardless of price, the most important thing is you have fun-and win big-while doing it.