When it comes to playing the lottery online in India, it is certainly a balancing act between the laws. This is because, as a standard, playing Indian lotteries online is not permitted.
However, this doesn't mean that there aren't online lottery websites that claim to offer Indian and international lotteries. One of these websites is Bhagyalakshmi Lottery, which was launched in 2017.
In this Bhagyalakshmi Lottery review, we will see exactly how this site works and whether or not you should spend even a minute of your time exploring it.
How Bhagyalakshmi Lottery Works
According to the website, it operates as a lottery messenger service.
This means that when you buy a lottery ticket online through the site your numbers are then used to purchase a physical ticket on your behalf.
While this may have been true at one point, we don't think that this happens anymore. Especially considering that it appears the site has ceased operations (or is broken and nobody has actually noticed).
For example, when clicking the 'Play Now' option, nothing happens. There is also no place to register an account or sign into an existing account.
In our opinion, this is not a bad thing. In fact, it is a clear sign that you should probably stay as far away from this site as you possibly can.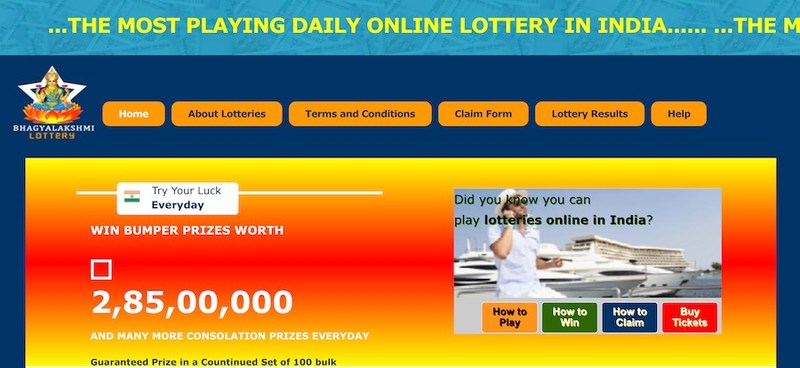 ,
Features
There are no features added to the site. The only thing that you could say is a "feature" (which in reality is just an integral part of any online lottery website) is the results section.
This, like most of the rest of the site, doesn't work anymore. However, even while it was working, it was not something we would say that you should attempt using.
This is because, to view the results, you will have to enter the date of the results you are looking for and then download the results in PDF, DBF or ZIP format.
And we-and probably everyone else-are no fans of downloading things from websites that we already don't trust.
Ease of Use
It is not often that we do a double-take when looking at a website for the first time. In fact, it is usually the very best designs that get us to do this.
But Bhagyalakshmi Lottery managed to get us to do a double-take for the complete opposite reason.
The website looks like it was designed before the dawn of the internet.
Using clashing colours, gradients and ticket notices, the site really allows you to reminisce about the days that you used to use Internet Explorer to browse the internet using a dial-up modem.
Aside from the horrid design, getting around the site is at least relatively easy using the main top menu bar. That being said, this is only true if you happen to find a link that is still working.
On mobile, don't expect anything wonderful. The site has zero optimization for mobile and very clearly has no dedicated mobile app.
Supported Lotteries
Aside from claiming to offer lotteries from around the world, there are only five lotteries available on Bhagyalakshmi Lottery. These are:
Topaz
Silver
Platinum
Gold
Diamond
As stated above, none of these lotteries still function on the website.

,
Promos
There are no promotions or bonuses available on the website.
Payment & Withdrawal Options
According to the website, you can purchase lottery tickets using your debit or credit card.
While we assume this means that Visa and MasterCard are/were supported, there is no way to confirm this. This is especially true considering there is no mention of who processes payments for the site.
One thing that is mentioned specifically regarding payments is that payments can only be done using Indian Rupees. No other currency will be accepted, and you will need to ensure that you have INR in your account to purchase a ticket.
When it comes to withdrawals, all that the site says is that all winnings will be paid directly into your bank account via bank transfer.
The only exclusion to this is wins 'of a substantial amount'. There is-as expected-no mention of what constitutes a substantial amount.
Claiming Winnings
In credit to the site, the claims process does seem to be made easier thanks to an online claims form submission. Here, you can submit a full claim request should you be a winner.
The form will request all your basic personal information, your ticket information and your banking details.
While we do love the idea of making claims easier with the online form, there is a problem. We will be honest and say that we would never feel comfortable submitting our banking details on a site like this.
Customer Support
Customer support is not something that was thought about during the development of the site. This can be seen by the fact that there is no customer support aside from a small FAQ section.
This FAQ section is mostly unhelpful and will just irritate you thanks to the numerous and wonderfully executed spelling and grammar errors littering the entire webpage.
If you need any support that isn't addressed in the FAQ section, you are, unfortunately, entirely on your own.
Is Bhagyalakshmi Lottery Legit?
While we never like to flat-out brand a website as a scam, we are willing to bend that rule slightly for Bhagyalakshmi Lottery.
We are not saying that the site is a complete scam (okay, maybe we are). What we are saying is that the best feature of this website is that it appears to no longer be in operation.
Bhagyalakshmi Lottery Review - Final Verdict
In light of everything this website has to offer (or doesn't), we don't recommend wasting even a minute of your time to see what it was.
Unless, of course, you are doing a study on the history of web pages at the dawn of the World Wide Web.
Instead, check out the best online lottery websites or our online lottery guide for Indian players. Reading either, or both, of these articles will be a much better use of your time.