India is one country that really loves the lottery. In fact, India is one of the biggest lottery-playing countries in the world.
This can be seen by the fact that there are almost 40,000 authorised retailers in the state of Kerala alone just to keep up with the demand for tickets.
While there may be many players that still love the traditional way of playing the lottery, we are living in modern times. This means that there is now also the option of playing the lottery online.
So, in this guide to playing legal online lottery in India, we will look at all that playing online entails.
This includes whether playing online is legal, what advantages come with playing online, what the best online lotto sites to play via are, and what the best international lotteries are.
Legality of Online Lotteries in India
The first thing that you may be wondering is whether or not it is even legal to play the lottery online in India. This is especially true considering the strict lottery rules that exist in the country.
In fact, even today, there are still only 13 Indian states that allow the legal sale of lotteries: Assam, Arunachal Pradesh, Goa, Kerala, Madhya Pradesh, Maharashtra, Manipur, Meghalaya, Mizoram, Nagaland, Punjab, Sikkim and West Bengal.
The lotteries available in these states are all run by the state government and have many rules that govern the sale of tickets.
These rules include strict provisions such as the fact that players from one state cannot purchase tickets from a lottery that takes place in a neighbourhood state.
Another rule is that no Indian lotteries can be played online. That's right: all Indian lottery tickets can only be purchased in person.
You may think then that it is probably impossible to purchase lottery tickets online then. Thankfully, this is not true.
Because of a grey area in the law in India, there is no expressly mentioned law that prohibits the purchase of international lottery tickets online.
This means that anyone in India can play many incredible lotteries online-and most offer considerably bigger prizes than Indian lotteries.
How to Play Lotteries Online in India
Now that you know that it is legal to play the lottery online in India, you may be wondering how you can go about doing this. Thankfully, the answer is rather simple: online lottery websites.
Around the world, there are plenty of great lottery websites that allow players the chance to purchase lottery tickets online regardless of where they are located.
Today, there are even sites, such as LottoSmile India, that cater specifically to the Indian market.
These sites come in two different forms: online lottery agents and online lottery betting sites (or online bookmakers).
Online Lottery Agents
Websites that function as online lottery agents are sites that allow you to physically play in any of the supported lotto games on the site. This means that, whenever you purchase a ticket online, a physical ticket that matches yours is purchased on your behalf by an employee of the company.
This ticket is then kept safe until the draw. If it then turns out that your ticket is a winner, your winnings are claimed from the lottery operator and then paid over to you.
Examples of these types of sites include Lotto247 and LottoSmile.
Online Lottery Betting Sites / Lotto Bookmakers / Lotto Bookkeepers
Sites such as Lottoland and LottoGo function as lotto betting websites. This means that they don't allow customers to purchase physical tickets in upcoming draws. Instead, you will be placing a bet on the outcome of the draw.
If you are lucky enough to become a jackpot winner, your winnings are claimed from the insurers that underwrite the betting book of the website. And if you win any smaller prizes, the lottery bookkeeper site will pay you directly out from their earnings.
Traditionally, these sites are easier to play with because, at no point, will you need to deal with an official lottery operator. However, they do have a downside in that you won't officially be playing in the lottery.
How to Pay for Online Lotteries in India
The payment methods available will depend wholly on which online lottery site you decide to use to purchase your lottery tickets. Each site has its own dedicated deposit methods to offer the easiest way to process your purchase.
As a standard, most online lotto sites operational in India offer full support for UPI payments. This payment method links directly to your bank account and online payment systems like GooglePay and other QuickPay methods. This is also the most used payment method for lotto players in India.

In fact, the only lottery sites active in India that we discuss in this article that don't offer support for this payment method are LottoSmile, theLotter and Lotto247.
However, while these sites may not include support for UPI payments, they luckily do offer full support for Visa and MasterCard payments. This means that most players should still manage to purchase their tickets for any upcoming draw.
Other common deposit methods include Neteller, Skrill and AstroPay Card.
How to Withdraw Lottery Winnings for Online Lotteries in India
While paying for your online lottery ticket may be incredibly simple, you may be worried about how easy it will be to withdraw your funds should you win anything. Thankfully, this is not a difficult process.
Most of the online lottery websites available in India allow you to withdraw your funds using the same methods used to deposit. In fact, it is common that sites request that you use the same method that you used to pay to withdraw your winnings.
This means that, for example, if you paid using UPI, you would need to withdraw your winnings using UPI as well.
The only real exception to this rule is if you are a lucky winner that has struck it rich and won a jackpot. In this case, the way in which you claim your winnings might differ slightly. However, all online lottery websites will guide you through the process of claiming your money if you do win big.
One thing that you should, however, note about withdrawing your winnings is the KYC policy. Almost all lotto websites have a Know Your Customer policy to protect you and them.
Essentially, this policy requires you to provide proof of your identity and physical address when you win. This is to ensure that your money is indeed going to you. It is also a way that lottery sites protect against fraud and money laundering.
The great thing, however, is that you only need to complete the KYC policy once-the first time you win. After that, your details are stored on file for any future win.
Best Online Lottery Websites for Indian Players
As we have mentioned, there are specific websites that offer the best online lotto experience for players based in India. We have compiled a short list below of the very best lottery sites that offer the greatest experience for players looking to win big.
LottoSmile India / theLotter
While many people speak of theLotter and LottoSmile India as separate websites, the reality is that these websites are carbon copies of one another. They are both run by the same company and offer the same lotteries and features.
The one difference, however, is that LottoSmile features a dedicated version of the site that is specifically tailored for Indian players. This version of the site can be accessed by visiting www.lottosmile.in.
This great website offers more than 50 massive international lotteries to choose from.
In addition, it processes all payments and withdrawals in Indian rupees, offers excellent syndicate play and has a great support section if you get stuck. It also purchases physical tickets on your behalf.
The only downside to this site is that the only deposit methods available are Visa and MasterCard payments. If you don't have one of these payment methods available, you may have to use the normal theLotter site-which is not entirely optimised for Indian players.
Multilotto
Founded in 2010, Multilotto has grown quickly to become one of the premier online lotto sites available today. And, when looking at the site, it is no wonder why.
The site allows you to place bets on over 60 different international lotteries.
It also features a decent enough online casino, support for local UPI payments and a great selection of lottery FAQs to help new players find their feet.
While this site certainly has plenty to offer, the design of the site could be a little simpler. It may also take you a few visits to get used to where everything is.
This, however, is a small price to pay considering the great benefits that you could gain by using this site to play the lottery online.
Lottoland
As part of the massive Lottoland group, Lottoland Asia is the dedicated version of the site for Indian lottery players looking to win big on the next draw.
This site functions as a lottery betting site, meaning players place bets on the outcome of upcoming draws.
With over 30 international lotteries to bet on, the site has more than most people need.
It also offers a variety of great features like sports betting and an online casino.
While it supports UPI payments and allows easy withdrawals, the site's support is not as great as some of the others on this list.
In addition, the design of the site may also seem a bit confusing if you are accessing it for the first time. This is purely because of the large amount of content available on the site-which isn't a bad thing.
Regardless of this, this site is certainly one that you should visit if you are looking to play the lottery online in India.
Lotto247
Lotto247 was launched in 2004 and has quickly grown to be one of the best lottery websites available right now.
The site serves as an online lottery ticket messenger.
This means that any ticket you purchase from the site for any of the 16 lotteries on offer is then physically purchased on your behalf by one of the many Lotto247 agents around the world.
This is great because it means you are actually playing in the official lotteries.
While the site boasts a decent number of deposit and withdrawal methods, there are no other real features to speak of such as syndicates or bundles.
However, the site has launched a great online casino that should keep you entertained while giving you the chance to win.
Because of this great new addition, Lotto247 is certainly a site that you should be looking into if you are wanting to play not just the lottery, but some great online games too.
LottoGo
Launched in 2001, LottoGo offers a wide range of great features to Indian lotto players that are on the hunt for a large international jackpot win.
Operating as a lottery betting website, LottoGo lets you place bets on 19 popular lottery games.
It also has a fantastic online casino that is packed with games and fun features like scratchers and daily jackpots.
All this makes it the perfect site if you are new to online lottery websites.
While LottoGo is certainly a great site, it lacks the variety of lotteries that some other online lotto sites have. This it more than makes up for, however, by supporting local payments like UPI.
So, if you are a new player looking for an online lottery provider, LottoGo may be just the site to get you started with.
LotteryWorld
Another site that has a dedicated version for Indian players is LotteryWorld, which operates directly out of Mumbai even though it is registered outside of India.
This site gives you the chance to bet on over 20 great international lotteries and lets you enjoy a number of other features such as scratch cards and casino games. In addition to this, the site fully supports local UPI payments.
Also, if you are someone who loves modern design, the great layout of the site will let you get where you need to go relatively quickly.
So, if you are looking for a site that offers a great online lottery experience, you should definitely try out this brilliant website.
BetWinner
Another great site for playing the lottery online in India is BetWinner. This site is home to a variety of betting and gambling options-including sports betting, online casino, bingo and lottery betting.
It's important to remember that BetWinner won't purchase physical tickets for your chosen lottery. However, it does offer great payment methods (including UPI), some of the cheapest lottery ticket prices and a fun in-house lottery titled Daily Lottery.
While this site certainly is a good one to use to place bets on online lotteries, the lottery section of the website is rather difficult to find. There are also no syndicate options or any other notable features.
However, while it may not have all the bells and whistles of other sites, this is still a good site to get your lottery fix from.
Indian Lottery Sites to Avoid
Just as there are great sites worth checking out, there are sites you should avoid at all costs. This is because these sites are unreliable, broken, poorly designed and/or just straight up scammy.
Bhagyalakshmi Lottery
One look at BhagyalakshmiLottery.com should make you understand why no one should ever sign up with or play through this site. But if that doesn't convince you, perhaps our Bhagyalakshmi Lottery review will.
What to Look for When Choosing an Online Lottery Website in India
Because there are so many online lottery websites available on the internet, it is always best to make sure that the site you are considering using is legitimate. Thankfully, there are a few easy ways to do this.
Gaming License
One of the first ways to see if the site you are interested in is legitimate is to see if the site holds a valid gaming license that is issued by a proper regulatory body. Only websites that have passed stringent checks and auditing are issued these licenses and allowed to operate.
It must be noted, however, that this applies only to online lottery betting websites. Sites that purchase tickets on your behalf are not required to hold a gaming license-and, as such, usually don't.
For lotto agent sites that purchase physical tickets, you should look at some of the other areas below.
Online Reputation
Because there are so many players that use online lotto websites, one of the best ways to gauge if a site is legit is to see what people are saying about it.
This can be done by doing a simple Google search or by reading our online lotto site reviews.
Websites that have a good online reputation can usually be trusted. However, sites that have endless complaints against them and that have a poor reputation are ones that you should probably avoid.
Payment and Withdrawal Methods
Another great way to see if a site is safe to use is to check which payment and withdrawal methods it uses. Sites that offer very few or basic options may not be entirely trustworthy.
This is simply because large payment processors ensure that websites are legitimate before allowing access to their services.
However, caution must always be taken when using this method to judge a website. Because not having many payment options doesn't always mean that a site is a scam.
How to Register a Player Account with an Online Lottery Website in India
Registering a player account is usually a very quick process that will only take you a few minutes.
The first thing you'll need to do is click on the Join Now or Register button that is usually located on the top navigation menu of any online lotto site.
During this process, you'll need to provide your basic details such as your name, contact number, email address, date of birth and physical address.
You will also need to agree to the website's terms and conditions. It is always best to read these terms and conditions, as they set out the agreement between you and the website. They also include valuable information on whether you are eligible to register an account due to age or location restrictions. As a standard, almost all online lotto websites require players to be a minimum of 18 years of age to play.
Once you've submitted your details and accepted the terms, your new player account is generally ready to use immediately. However, there may be some websites that require you to submit supporting documentation before you can begin playing. This supporting documentation will be proof of your identity and physical address. This is used to complete your KYC (or Know Your Customer) information.
How to Buy Lottery Tickets Online in India
Buying lottery tickets online is a very simple process. In fact, anyone should be able to do it, regardless of how tech-savvy they are.
Regardless, we are going to explain step by step how to get your next chance at the millions.
In the example below, we will be using the popular online lottery website Multilotto.
Step 1: Register a player account if you don't already have one. For more info on how to do this, take a look above to see how. If you already have a player account, simply log in to get started.
Step 2: Select the lottery that you would like to play from the list of available lotteries on the site.
Step 3: Once you've chosen which lotto game you'd like to play, use the on-screen number picker to choose the numbers that you want to use. With Multilotto, selecting numbers on multiple boards is quick and easy. If you don't feel like choosing your own numbers, simply click on the quick pick icon to have your numbers be chosen by a random number generator.
Step 4: Choose how many draws you would like to enter your selected numbers into. Like Multilotto, many online lottery websites offer great discounts if you choose to play in multiple draws.
Step 5: Click on the Checkout or Play Now button to continue to the payment screen.
Step 6: Select which payment option you would like to use. With Multilotto, there are various payment methods available, including UPI. After choosing your preferred method, follow the on-screen prompts to complete your payment.
Step 7: Sit back and wait to see if you are a winner! If you are, you'll receive an email and a notification in your user account-so there's literally nothing else you need to do.
Biggest International Lotteries Available Online
Knowing where to play the lottery online from India is all good and well. However, if you aren't sure which lottery to play, you may still not be giving yourself the best chance at changing your life forever.
So, to make it slightly easier, we have listed five of the biggest international lotteries available. These games have featured the biggest jackpots on the planet and are readily available on almost any lotto site.
US Powerball
Featuring the largest jackpot in history and holding the title for three of the five largest jackpots ever, US Powerball is a lottery that is played by millions of players each week.
Setting the world record jackpot at US $1.58 billion, this game offers a minimum jackpot of US $20 million and 1 in 25 overall odds of winning a prize. This isn't bad considering the jackpot odds are 1 in 292,201,338.
When considering the massive jackpots offered by this game, the jackpot odds also don't seem too harsh. It is no wonder then, that this is one of the most popular lotteries available today.
Mega Millions
As a rival to the massive US Powerball, Mega Millions is another fantastic lottery that is played around the world. And there is no question as to why.
With a record jackpot of US $1.54 billion, this game features a minimum jackpot of US $20 million, overall odds of 1 in 24 and jackpot odds of 1 in 302,575,350.
Looking at the jackpots dished out by this game, it is without doubt that this game is worth playing. Regardless of whether you are purchasing a physical ticket or betting on the outcome.
Italy SuperEnalotto
With the toughest odds of any lottery on the planet, you may be surprised to see that this is one of the most popular lotteries play today. However, Italy's SuperEnalotto is still one lottery that you don't want to miss out on.
Having a record jackpot of €209.1 million, this lottery offers a minimum jackpot of €2 million and overall odds of 1 in 21-which are better than both lotteries listed above. Unfortunately, the jackpot odds are 1 in 622,614,630.
While these odds may seem ridiculously high, you never know if you may be the next big winner of a life-changing jackpot.
EuroMillions
Offered through a partnership of nine European countries, EuroMillions offers an excellent way to win amazing jackpots, especially with the odds that are better than you may expect.
Boasting a record jackpot of €210 million, this great game offers a minimum jackpot of €17 million, overall odds of winning that are 1 in 13 and jackpot odds of 1 in 139,838,160.
Together, all this makes for an exciting game that has a truly fantastic minimum jackpot and that can easily help you make all your dreams come true if you are the next winner.
Spanish La Primitiva
Spain's La Primitiva lottery is one of the oldest and best traditional lotteries still active today. And there is good reason it is still running.
With its highest jackpot being €101.7 million, this lottery has a minimum jackpot of €2 million and overall odds of 1 in 8. It also features jackpot odds that match the EuroMillions lottery above of 1 in 139,838,160.
This great minimum jackpot, decent overall odds of winning and fantastic record jackpot makes this lottery one that you don't want to miss out on.
If one of the above lotteries still doesn't offer what you're looking for, make sure to check out our detailed round-up of the world's best lotteries based on their biggest jackpots ever, odds, ticket prices and more.
Taxes on Lottery Winnings in India
Aside from which lotteries to play and where to play them, you may be wondering if there are any other implications to playing the lottery online from India. One thing that you may want to know about is the tax on lottery winnings.
Sadly, if you are playing the lottery online from India, you may be liable to pay a rather large amount in tax.
This is because you may be charged tax both by the country that the lottery takes place in and back in India when you receive your winnings.
Any international lottery that you play may be subject to local taxes in the home country of the lottery. These deductions are usually done automatically by the online lottery site that you used to purchase your ticket.
Whatever is left after these deductions are made is then paid to you. However, if you are in India, you will then also be liable to pay taxes on those winnings to the Foreign Exchange Management Act (FEMA).
As a standard rule, a flat rate of 30% tax is charged on any lottery winnings that exceed Rs. 10,000. However, as always when it comes to large windfalls, it is best to consult with a tax professional to determine the exact amount that you may be liable to pay.
Benefits of Playing the Lottery Online in India
While the most obvious benefit of playing the lottery online from India is that you can play in a wide range of international lotteries, there are additional benefits too.
These benefits give you even more reason to play online and to try your luck in some of the biggest international lotteries happening around the globe.
Convenience
The most obvious benefit of playing online-even if you aren't in India-is the convenience of purchasing tickets from your smartphone, tablet or computer.
Some players may prefer entering a brick-and-mortar store to purchase their ticket. But the convenience of being able to buy a ticket no matter where you are is something that makes playing the lottery online truly spectacular.
On top of that, many of the best lotto sites for Indians offer dedicated mobile apps for iOS and Android that make it even easier to use the sites' great features.
Lottery Syndicates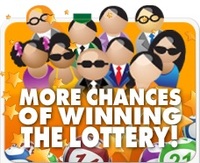 One of the best reasons to play online is the chance to join online syndicates. Syndicates allow you the chance to pool your money with other players and purchase more tickets than you could on your own.
Doing this massively improves your chances of winning without costing you're a fortune. It is also one of the only ways that has been mathematically proven to better your chances of claiming a big win or jackpot.
Check out our guide to online lottery syndicates for more details and see how you can increase your chances of winning the US Powerball jackpot from 1 in 292,201,338 to just 1 in 289,882.
Lottery Bundles
Aside from syndicates, many lottery websites offer lottery bundles.
These bundles allow you to purchase multiple tickets for multiple different lotteries in one convenient transaction. This makes it even more convenient to play online.
Another great thing about these bundles is that they are usually structured to include entries into some of the biggest lottery draws happening at the time.
This means that, if you do win, you can be sure that you will be winning bigger than you could imagine.
Lottery Subscriptions
Another great feature about playing the lottery online from India is the ability to enter lottery subscriptions. These subscriptions automatically enter your chosen numbers into a set number of draws.
Using subscriptions means that you never have to worry about forgetting to purchase tickets for each upcoming draw again.
In addition, there are some online lottery sites that give great discounts on lottery tickets if you choose to play using a subscription.
Promotions
One thing to also look for when deciding which online lotto site you would like to use is the promotions it has available.
Thankfully, almost all of the best lottery websites offer one or more of the following promotions:
Welcome Bonus: A welcome bonus is a one-time gift from the website to thank you for registering as a player. These bonuses usually come in the form of free play for the online casino hosted by the site, discounts on certain lottery tickets/bets, deposit bonuses or completely free tickets/bets. The best of these are the deposit bonuses, which will match your deposit amount up to a certain percentage. This means that if you deposit Rs. 100, the site will automatically load an additional Rs. 100 on your account.
VIP Clubs: Some sites also feature VIP clubs for regular players. These clubs allow you to gain points each time you purchase a bet or ticket. These points contribute to your VIP level. Being a VIP player gives you access to exclusive deals, great discounts and a variety of other benefits.
Sales and Promotions: Another type of promotion is the general sales and promotions held by sites to encourage players to purchase specific tickets or bets. These are usually targeted at a specific lottery when the jackpot exceeds a certain amount. They offer great discounts or even free tickets/bets depending on your purchases.
Refer-a-Friend: This promotion allows you to refer your friends and family to the website that you've joined. If they join using your referral, both you and they will receive a special bonus, such as a free lottery ticket or online scratch card.
Each of the promotion types listed above will have their own terms and conditions that will apply. These terms will be specific to the site that you are claiming the bonus from. Therefore, it is always best to read these terms to ensure that you can claim the bonus.
Customer Support
Another area to pay attention to on any online lottery website is the customer support options.
These usually take the form of an FAQ page, an online contact form or chat facility, or even a phone number.
Live options like the latter two are usually available only at certain hours of certain days. But some sites really go out of their way to be available almost around the clock.
Great customer support is a valuable addition to any website that has the player in mind. This is because it assists new players find their way around by answering any questions they may have.
It also helps seasoned players in providing a way to easily resolve any problems or queries that they may have.
Indian Players That Won Big by Playing the Lottery Online
Reading that you can play the lottery online from India is one thing. However, how can you be sure that you could actually become a winner if you do choose to play online? Well, the answer is quite simple-just look at the players that have won!
Below are some of the lucky Indian winners that have won big by playing the lottery online.
Lingaraju D.
As a retired health inspector, Lingaraju was living in Bengaluru win November 2020 when he decided to try his luck and purchase a Mega Millions ticket from the popular online lottery website Lotto247.
Not knowing that he was about to strike it rich, Lingaraju managed to match four out of the five main numbers needed to win. This great match means that he walked away with a fantastic US $520,000.
C.J.
In 2017, CJ registered an account on the massive online lottery site theLotter.
Not expecting anything big to happen too quickly, CJ began playing in multiple different lotteries including Australia Saturday Lotto, Spanish BonoLoto and Austria Lotto.
C.J. began playing a different lottery every day until November 2018 when he managed to claim a decent prize of €32,161 from Austria Lotto.
He immediately said that this money will allow him to realize some of his dreams but that he will continue to play lotteries as often as he can until he wins a massive jackpot.
Partho Mondal
Playing the Lottoland daily exclusive lottery Malamaal Daily, Partho Mondal managed to change his life completely.
Partho was working as a customer service representative back in November 2020. He states that he enjoyed playing this lottery because it cost just Rs. 40 to enter on Lottoland.
Amazingly, his Rs.40 investment returned massively when he won a staggering 53 lakh rupees by matching all five numbers.
Partho said shortly after his win that he plans on paying off his debts and helping his family.
Shaji Matthew
Another Lottoland winner is Shaji Matthew. This lucky winner managed to win a massive 3.3 crore rupees without even playing the lottery.
Instead, Shaji played one of the many fantastic casino games offered by the site. While playing the Atlantis game, Shaji won the massive jackpot that instantly changed his life.
When asked what he would do with the money, he stated that he was investing the majority of it and using the rest to help a local orphanage located near his home.
Conclusion
Playing the lottery is something that many people around the world love to do. However, if you are based in India, you may have been limited to the lotteries that you can play in your state.
Or, worse yet, perhaps you had no options whatsoever if you reside in one of the states where lotteries are banned.
Thankfully, due to a few neat loopholes in the law, Indian players can easily-and legally-play in the biggest international lotteries available today.
And this is all thanks to the great features offered by online lottery websites.
So, if you are an eager lottery player in India, we recommend that you register on one of the best lottery websites mentioned above and get playing. You may just be the next player we mention on our list of great Indian winners.