California SuperLotto Plus is easily one of the best lotteries available in the state and has been since it began.
Boasting a great minimum jackpot, a solid number of prize tiers and odds that aren't too harsh, there is little wonder why this lottery is so popular.
In this guide, we'll share everything you'll need to know about this lottery and how you can buy California SuperLotto Plus tickets online.
About California SuperLotto Plus
California SuperLotto Plus held its first draw in 1986. However, at that time the game was known simply as California SuperLotto.
In 2000, the Plus was added to the name to give us the game we know today.
The game hasn't undergone any major changes since it was launched and has retained its original format.
The lotto is run by the California State Lottery-the organiser of all lotteries in the state.
All profits from the lottery, aside from those that go to the prize pool, are used to bolster education throughout the state.
California SuperLotto Plus Draws
California SuperLotto Plus holds two draws every week. This means there are plenty of chances each year to win a great prize.
Draws take place every Wednesday and Saturday at 7:57 p.m. PST.
Each draw is held at the California Lottery headquarters in Sacramento.
How to Play California SuperLotto Plus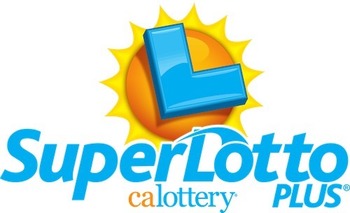 California SuperLotto Plus is a simple game to play if you have ever played any other double-matrix lottery, such as US Powerball and Mega Millions.
To play, you must select five numbers from a pool of 1 through 47. You will also need to select a single Mega number from a pool of 1 through 27.
To win the jackpot, you must match all five numbers and the Mega number.
Aside from the main draw, California SuperLotto Plus hosts a secondary draw that offers five $15,000 cash prizes. This draw takes place once a week and costs an extra $1 per ticket.
A standard ticket (without the secondary draw option enabled) costs only $1.
Purchasing tickets from online lottery websites could cost more than the standard cost.
California SuperLotto Plus Prizes and Odds
California SuperLotto Plus has a generous nine different prize tiers.

As mentioned above, to win the jackpot, players will need to match all five numbers and the Mega number.

Prizes can also be won for matching one number and the Mega number or just the Mega number on its own.

The game hosts a minimum jackpot of $7 million. This is higher than many other lottery games.

Jackpots that are not claimed roll over to the next draw. Due to the lack of any jackpot or rollover caps, this leads to some pretty generous jackpot amounts.

,

The odds of winning the jackpot are 1 in 41,416,353. These are decent enough considering the minimum jackpot and the ticket price.

The overall odds of winning a prize are 1 in 23, which are on the tougher side compared to some of the best lotteries.

The different prize tiers, their odds of winning and the estimated prize for each tier are detailed below.
| | | |
| --- | --- | --- |
| Numbers Matched | Odds of Winning | Estimated Winnings |
| 5 + MN | 1 in 41,416,353 | Jackpot (min. $7 million) |
| 5 | 1 in 1,592,937 | $28,500 |
| 4 + MN | 1 in 197,221 | $1,650 |
| 4 | 1 in 7,585 | $100 |
| 3 + MN | 1 in 4,810 | $55 |
| 3 | 1 in 185 | $10 |
| 2+ MN | 1 in 361 | $10 |
| 1 + MN | 1 in 74 | $2 |
| MN | 1 in 49 | $1 |
Claiming California SuperLotto Plus Prizes
Winners have only 180 days from the date of the draw to claim their prize. Prizes unclaimed after this period will be forfeit.
Prizes up to $599 can be redeemed immediately from any authorised retailer. Prices ranging from $600 upward can be collected from any lottery office or via the postal service.
Jackpot winners will need to contact California State Lottery directly to claim winnings. These winners have 60 days from the draw date to decide whether they would like a cash lump sum or annuity payments.
By default, the lottery pays out over 26 annuity payments. However, a cash lump sum can be requested.
This lump sum will reduce the final winnings players will receive by between 45 and 50%.
Any prize over $600 is also subject to federal tax of 24%. Foreign nationals will be charged 30% tax.
Players who buy lottery tickets online from sites like theLotter or Multilotto may incur additional fees. However, the convenience these types of sites offer is second to none.
Notable California SuperLotto Plus Winners
The average California SuperLotto Plus jackpot is around $21 million. However, the game has often hosted jackpots that far exceed this amount.
The largest jackpot offered in the history of the game occurred on February 16, 2002. The jackpot was claimed at $193 million.
California SuperLotto Plus-Should You Play?
California SuperLotto Plus is certainly a game that many people love-and for good reason.
With no jackpot limit, great average jackpot amounts, nine prize tiers, cheap ticket price and decent odds, this game has plenty to talk about.
If you are looking for a great new lotto game to play, then you should seriously consider California SuperLotto Plus.