Multilotto is an online lottery betting service that allows users to participate in lotteries from all over the world.
Launched in 2011, it has become one of the most trusted websites for online lotto and online casino.
In this Multilotto review, we'll explore how the site functions, what lotteries you can play, and whether you can trust this site to play the lottery.
How Multilotto Works
When you play the lotto with Multilotto, you aren't buying lottery tickets from the organization. Instead, you're placing a bet with Multilotto on what the winning numbers will be.
If you win, your prize is paid out by Multilotto and their bookmaker Lotto Warehouse Ltd. through their earnings. For truly massive wins, the payment will be covered by an insurer.
To play lottery online with Multilotto, users need to register a new player account.
The registration form is somewhat long and asks for information such as full name, email address, birthday, gender, country of origin, address, and mobile phone number.
You can get to the registration form by clicking on the green "Sign Up" button in the top-right corner of the screen.
You will then be prompted to deposit money into your account.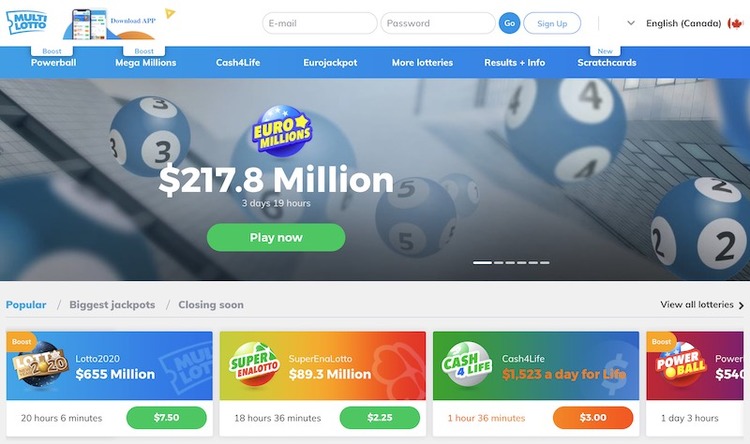 ,
Features
Multilotto offers multiple features that make it a very appealing online lottery service.
Of course, it features dozens of lotteries from all over the world (more on this later).
But aside from the games themselves, Multilotto also offers members numerous methods of playing and resources, including the following:
Syndicates: You can play in a syndicate or group so you can purchase more bets to increase your chances of winning, all while splitting the cost. However, you will have to form the syndicate yourself with family, friends, co-workers, or whoever else loves playing the lottery.
Subscriptions: If you're a dedicated player, you can also opt for their subscription feature, which automatically makes purchases for draws ahead of time.
System Game Option: One feature that Multilotto offers that you may not see anywhere else is the "System game" play option. This allows you to choose a subset of numbers and bet on every possible combo of your chosen numbers.
Boost Option: One feature that is unique to Multilotto is the Boost option they have on two of their biggest lotto draws, Powerball and Mega Millions. This option allows users to play for bigger jackpots than the official prize offered from the lotto organization. This is a feature that you don't get from buying tickets at your local convenience store.
Online Scratch Cards: Multilotto offers a decent selection of online scratch cards. While there are certainly sites that offer more, the scratchers they do provide are some of the most popular.
Casino Games: With Multilotto's online casino, you can play table games like blackjack, roulette, and poker, as well as online slot games. You can browse games by game type, or by the categories "Popular" and "New."
Lotto Results & Statistics: Here you can find the results for lottery draws from all over the world. Lottos are separated by continent, with numerous organizations listed from Europe, USA, Australia, South America, North America, Oceania, Africa, and Asia. There is also an extensive database of statistics including odds, most frequently drawn numbers, and jackpot history for some of the most popular lotto organizations in the world.
Ease of Use
Multilotto is easy to use, with distinct colours and an interactive grid format where you can choose your numbers. It also lets you easily select the quick-pick option for random numbers.
The subscription feature makes repeat buying hassle-free, ensuring you never miss a draw.
Multilotto is also very clear in how they display each draw-clearly showing the prize amount and a countdown to the next draw.
As easy as the desktop design is to use, the mobile app makes it even easier.
If you prefer to play from your phone, you can download the app for iOS or Android.
However, if you want to download the full-feature Android app, you have to follow a direct link to the APK file that's available on the Multilotto site instead of going through Google Play.
Supported Lotteries
Multilotto lists 59 international online lotteries. However, not all of these appear to be playable.
While many of the listed lotteries offer a "Play Now" option, the majority only invite players to "Read More."
The 32 lotteries that you can actually play are:
Promos
Multilotto will occasionally offer players deposit bonuses, free trial subscriptions, and free plays. They also offer discounts when purchasing subscriptions.

,
Payment & Withdrawal Options
Users must make deposits into their accounts before they can purchase lottery bets or play any other games.
There are multiple payment options, including credit cards such as Visa, MasterCard, JCB, and Diners Club International.
The site also supports money transfer services like Neteller, Entropay, Trustly, Skrill, Wirecard, Zimpler, PaysafeCard, as well as bank transfers.
Players withdraw funds by requesting winning payouts. Processing takes up to three days and includes a 5% administrative fee.
Claiming Winnings
As Multilotto is a lotto betting service, there is no need to claim an actual ticket in person.
Multilotto pays winners directly by crediting their accounts, though bigger prizes are more complicated.
When someone wins a grand prize, the company has a representative contact the winner once the prize has been secured.
This may take up to 90 days, as the money for payouts comes from third parties used by Lottery Warehouse Ltd.
The company representative works with the winner to arrange a payment method to deliver the money.
Customer Support
There are only a few options for reaching out to customer support.
You can leave a message through the website, fill out the "Contact us" form, or send an email to support@multilotto.com.
The website does not list a phone number or offer a chat box, which is disappointing for such a prominent online lottery website.
Is Multilotto Legit?
Multilotto is easily one of the most trusted lottery websites around today. It has been operating with much success and praise for many years.
Multilotto is operated by Multi Brand Gaming Limited, holds a license issued by the Government of Malta, and is regulated by the Malta Gaming Authority.
The site is also secure and safe, using 128-bit RapidSSL encryption to keep information protected.
Multilotto Review Final Verdict
Multilotto offers a wide variety of games and online lottery draws to play.
While the website is easy to use and provides a convenient mobile app, there are some small issues.
Customer support could be improved, and the number of lotteries that users can actually play through the site is a bit misleading.
However, Multilotto is one of the most established sites for lottery betting online and shows no signs of disappearing any time soon.