Canada Lotto 649 is one of Canada's biggest national lottery games. It offers large prizes, rollovers, and familiar gameplay for anyone who has played a 6/49 format game. In this Canada Lotto 649 lottery review, we'll examine what else makes this an appealing draw to participate in.
About Canada Lotto 649
Canada Lotto 649 began in July 1982 and was the first Canadian national lottery to allow players to choose their own numbers, a format of lotto play that has since become standard across the country. It is run by the Interprovincial Lottery Corporation, a group consisting of the five regional lotto corporations in the country.
The popular lotto game has undergone a few changes since its launch over 30 years ago, with the most recent change in September 2013 seeing several new features and adjustments.
Canada Lotto 649 Draws
Draws take place bi-weekly on Wednesdays and Saturdays. The draws are carried out by the Interprovincial Lottery Corporation using a Smartplay Halogen II ball machine. In addition to the Canada Lotto 649 draw, each of the five regional corporations that form the Interprovincial Lottery Corporation offers a regional variant of the game.
They also offer add-on games that are played on the same ticket as the national Lotto 6/49 draw. These games are named Tag, Encore, or Extra, depending on the region. The add-on game puts an additional six- or seven-digit number on the ticket. If these numbers are matched, there is an additional $100,000 prize for a six-digit match, or a $250,000 to $1,000,000 prize for a seven-digit match depending on the region.
How to Play Canada Lotto 649
As the name implies, players choose six numbers from a ball pool of numbers 1 to 49. There is also a bonus number taken from a smaller ball pool. Players have the option of choosing their own numbers or selecting Quick Pick for a randomized set of numbers. To win the jackpot, players must match all six numbers plus the bonus number. Like many other lotteries, the prize is split among winners if more than one person has a matching ticket.
One thing that makes Canada Lotto 649 different from other online lotteries is the Guaranteed Prize Draw that was added in September 2013. This guarantee means that a prize of $1 million is awarded with every draw, and this entry into this draw is automatically given (for free) to each player who bought a ticket. Therefore, the odds of winning this prize vary from draw to draw based on how many tickets were sold. Occasionally, smaller prizes are given out alongside the Guaranteed Prize Draw. These draws are called Superdraws.
Canada Lotto 649 tickets cost $3 per line, and tickets in most regions can hold a maximum of 10 separate lines per ticket. Some regions, including the Western region that comprises Alberta, Saskatchewan, Manitoba, the Northwest Territories, Yukon, and Nunavut, are only allowed a maximum of six lines.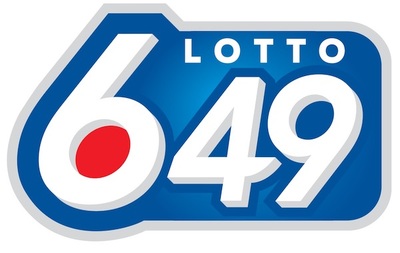 Canada Lotto 649 Prizes and Odds
This lottery draw has seven prize tiers in total and has some pretty great overall odds of 1 in 6.6. The high odds are due to the issuance of free tickets for the next draw as one of the prize tiers, which is more of a breaking even than a win. The minimum jackpot is $5,000,000, and the prize carries over to the next draw if no winning ticket has been sold. The current prize tiers and odds for winning each one is as follows:
| | | |
| --- | --- | --- |
| Number of Matches | Win | Odds |
| 6/6 | Jackpot or 79.5% share of the pool's fund | 1 in 13,983,816 |
| 5/6 + Bonus | 6% share of the pool's fund | 1 in 2,330,636 |
| 5/6 | 5% share of the pool's fund | 1 in 55,492 |
| 4/6 | 4% share of the pool's fund | 1 in 1,033 |
| 3/6 | $10 prize | 1 in 56.7 |
| 2/6 + Bonus | $5 prize | 1 in 81.2 |
| 2/6 | Free ticket | 1 in 8.3 |
| Guaranteed Prize Draw (10 of 10) (exact match only) | $1,000,000 | Variable |
Claiming Canada Lotto 649 Prizes
The ease of claiming prizes for Canada Lotto 649 is another aspect that makes it a great game. All prizes are paid out as a lump sum and are tax-free. However, if you live in another country and would like to buy lottery tickets online for Canada Lotto 649 (or any other lotteries) through an independently run lottery website, then you may have to pay taxes in accordance with your country's laws. All winners must come forward to claim their prize within one year of the draw date.
Notable Canada Lotto 649 Winners
Canada Lotto 649 has produced some big winners, the most notable of which was a single-ticket winner for a $64 million jackpot in October 2015. The jackpot is not only the biggest lottery prize awarded in Canada Lotto 649 history, but was also the largest jackpot won by a single ticket in Canadian lotto history. This record was beaten recently in January 2020 when a man from Ontario won the $70 million Canada Lotto Max jackpot, and again in February 2020 when a 22-year-old from Quebec nabbed the same amount.
Canada Lotto 649-Should You Play?
With a reputation spanning decades and reliable bi-weekly draws, Canada Lotto 649 is a great choice of lottery game to play. Though the jackpots might not get as big as its American counterparts like Powerball and Mega Millions, the great odds make it an incredibly appealing ticket.