Everyone knows that the lottery is a game of chance. However, that doesn't stop some enterprising individuals from promising players that they can beat the system and improve their odds of winning. In this LotoRainbow method review, we'll tell you about one more such system and whether there is any truth to the claim that it can help you win big.
What Is the LotoRainbow Method?
The LotoRainbow method is a system that uses math, probability, colour-coding and logic to help people choose lottery numbers. This method uses past winning lottery numbers and specially developed templates. The LotoRainbow website claims that this strategy helps take the luck out of the lottery and increases players' chances of winning.
Who Created the LotoRainbow Method?
A Brazilian mathematician named Renato Gianella developed the LotoRainbow method. Gianella explored behaviour patterns using the Law of Large Numbers in a study titled "The Geometry of Chance: Lott Numbers Follow a Predicted Pattern." The Law of Large Numbers is a probability theory that predicts that repeating an experiment a large number of times should produce a result similar to the expected value once an average is found.
Gianella concluded in the study that the lottery is an excellent real-life representation of the Law of Large Numbers, making it a great study for probability. He also found that examining past results shows that not all number combinations have the same probability of being drawn. Gianella used his conclusions from his studies to develop the LotoRainbow method and templates, which he says can be applied to all lotteries.
How Does the LotoRainbow Method Work?
The simplest way to explain the LotoRainbow method is that certain sets of numbers are assigned specific colours based on the highest probability of them being drawn. The coloured sets are called templates, and each template separates numbers into sets of ten. The likelihood of the numbers being selected is based on a specific lottery's past winning numbers.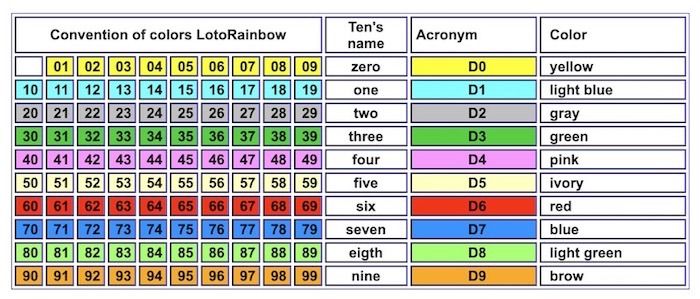 The templates are arranged into patterns, and players are advised to choose numbers based on the patterns. The LotoRainbow website assigns colours to number sets as follows:
1 to 9: yellow
10 to 19: light blue
20 to 29: grey
30 to 39: green
40 to 49: pink
50 to 59: ivory
60 to 69: red
70 to 79: blue
80 to 89: light green
90 to 99: brown
A template for a given lottery game displays a specific colour pattern based on past draws that correspond with the number sets. For example, the coloured template for the Brazil Mega Sena lottery draw is: yellow, light blue, light blue, grey, green and pink. Players then use these templates to select their numbers from the corresponding colour number sets. This gives players a smaller range of numbers to choose from, which may help them select more effective numbers every week.
The LotoRainbow website provides free statistics, probability outcomes and templates for the following lottery draws:
Powerball
Fantasy 5
Colorado Lotto
Florida Lotto
Hoosier Lotto
New York Lotto
Take5
Hot Lotto
MegaBucks
Mega Millions
Lotto 6/49
France Loto
England Lotto
La Primitiva
Lotto Samstag
Lotto Saturday
Mega Sena
Quina
Dupla Sena
Bottom Line-Is the LotoRainbow Method a Scam?
Though the LotoRainbow method tries to back up its system with math and probability, there is no proof that it increases players' odds of winning, and it certainly cannot guarantee a win. The templates are essentially based on the most common lottery numbers selected, and we know that choosing the most common numbers does not affect the odds of winning. However, the templates are available for free online, so there isn't much harm in trying this method out for yourself if you're that curious. After all, finding fun new ways of choosing lucky lottery numbers is half the fun of playing, and we would definitely take the word of a mathematician who is giving away his technique for free over most of the other lottery strategies and software that exists out there-most of which is bogus and expensive. Have you ever heard of any lottery scams giving away their products for free?
Conclusion
Unfortunately, there is no way to guarantee a lottery win. If the LotoRainbow method, or any other method for that matter, were accurate, then we would see a lot more jackpot winners. While the only sure-fire way to truly improve your odds of winning the lottery is to purchase more tickets per draw, the LotoRainbow method is one we'll keep a close eye on to see how it works out for real-world players. Heck, we might even try it ourselves for the next few draws.