Arguably one of the best feelings you can ever experience is finding out you've won the lottery. It immediately gives you a sense of elation as you think about how it will change your life and the lives of those around you. While there are very few things that can ruin such a happy occasion, one of the worst would definitely be finding out that the whole thing is a scam. Unfortunately, this is more common than you might think.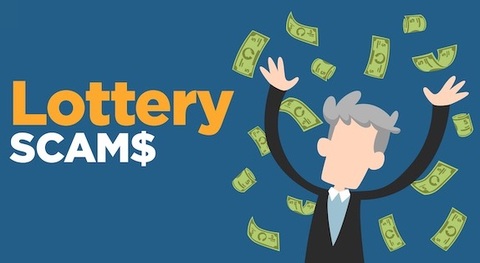 There are many lottery scams that go around and try to prey on people to either steal money from them or to gain access to their personal details. These scams come in many different forms, and all lottery players should continually be on the lookout for them. To help you out, let's take a look at some of the most common lottery scams that exist today.
Types of Lottery Scams
Email Lottery Scams
Email lottery scams occur when players receive an email stating that they have won a lottery. These emails will indicate that you have won a lottery that you generally will have no knowledge of ever entering and will request one or more of the following from you in order to claim your prize.
Contact: The most common request in these emails is for you to contact a lottery agent who will guide and assist you in claiming your prize.
Personal Details: In order to claim your prize, the scammers may ask you to submit your personal details to verify that you are the correct recipient of the lottery.
Deposit Payment: Another common request is a deposit fee that is said to be needed to process your payment and send you your winnings.
Blackmail Scams
A blackmail scam occurs when a "lottery agent" contacts you and claims that there is a winner who is entitled to a lottery prize. However, they have been unable to reach the winner and, due to the nature of their lottery pay-out ethics being questioned, need to pay the money out. To achieve this, they will offer you the prize in order to 'clear their books.' Generally, after stating this, they will ask for an advance fee to process the payment to your account.
The scam itself occurs if you refuse to pay this advance fee. The scammers will threaten to report you to the police, your friends and family, or even your employer for wanting to claim somebody else's lottery winnings unless you pay the price. This type of extortion scam preys on vulnerable people's gullibility.
Phishing Lottery Scams
These lottery scams take place when scammers send you a mail stating that you have won the lottery and require you to click on a link in their email to claim your prize. Clicking on this link can install software on your PC that gives the hackers access to your PC and personal files. These scams are not as popular as other scams due to them being easily thwarted by modern anti-virus programs, but the notion of scammers having access to your passwords and private data is definitely a terrifying one.
Payment Processing Scam
This type of scam is unbelievably sneaky. It purports that you are a winner in a lottery and that you have a large prize coming your way. The scammers will generally claim that you do not need to worry about providing any information other than your name and that from that they will contact your bank and confirm your account details to complete the payment. This will all occur for the simple processing fee that you will be asked to pay. Of course, once you pay the fee, you'll never hear from them again.
Fake/Unexpected Lotteries
Fake or unexpected lotteries are lotteries that work hand-in-hand with other lottery scam types-such as email scams. These lottery scams will claim that you have won in a lottery that you have never entered (and sometimes even heard of) before. A great indication of whether you are being scammed is whether or not you have actually entered the lottery that they are claiming that you have won. If you don't remember purchasing a ticket, then there is an excellent chance that you are being scammed. After all, how can you win a prize if you didn't buy a lottery ticket in the first place?
Two examples of these kinds of scams are the Facebook lottery scam and the Jamaican lottery scam. Both of these have managed to get quite a lot of money of the victims they have targeted over the years. In fact, the Jamaican lottery scam was scamming victims out of an incredible US$1 billion annually!
Like email scams, these lottery scammers try their hardest to gain access to your personal or banking details. Occasionally, these scams will also request that you pay a service fee for them to pay out your prize money.
Bogus Lottery Systems/Strategies
Lottery systems, which usually come in the form of computer programs, website subscriptions or lottery books with "secret" tips and formulas, are more advanced than regular scams in that they generally have a lot more time and effort put into them.
Lotto Dominator is one of the most notorious of these products, as it was designed with just one purpose in mind: to cheat gullible customers out of their money. Fortunately, not all are such outright scams-but many of them aren't that much better considering how ineffective they are.
These types of products generally claim to provide a winning combination/algorithm that will show you how to pick the winning numbers, usually for a cost-and sometimes an outrageous one. These algorithms, however, are usually completely useless and do not increase your chances of winning the lottery in any way. Even many of the websites that sell them will have a disclaimer stating that the systems are just meant for entertainment purposes and do not guarantee any results. But tell that to the customer who realized this after spending US$400!
On that note, however, there are systems like the LotoRainbow Method that are 100% free. Though they might be hard to wrap your mind around and their results will vary from person to person, at least their developers aren't charging anyone exorbitant prices for them-and ultimately that's the main issue we have with any of the above systems and products. If something is reasonably priced and it clearly states that it doesn't guarantee any specific outcomes, then it's up to you to decide if that's something you want to spend your money on. Just make sure you never spend hundreds of dollars on such things, as you will be sorely disappointed.
Tips for Avoiding Being Scammed
There are several ways that lottery players can ensure that they do not fall victim to a scam. These simple tips do not require much effort but will work well, in the long run, to protect you from being conned out of your money or personal details:
Never trust any email that does not come from a certified mail address that is linked to a proper lottery agent. These email addresses include any mails from Outlook, Yahoo or Gmail accounts.
Never click on any links from emails that you receive. Official lottery operators will never ask you to click on a link in order to claim your prize.
Never share any of your private information with any person over email. This includes any of your personal details as well as your banking details.
Never believe that you have won a lottery that you have not heard of. Chances are if you do not remember entering the lottery, you did not win it, and you are being scammed.
Never trust any lotto agent that requests you to pay a fee in advance in order to claim your prize. No lottery that is about to award you a big sum of money will ever ask you to pay for anything-aside from possibly taxes, depending on where the lottery exists.
Look out for typos and grammatical errors in emails. Scammers generally tend to come from outside of your home country and, as such, do not have a proper handle on English. One of the best ways to see if you are being scammed is to check if the email you have received has plenty of errors. If it does, it's definitely a scam.
Remember that emails will never be in ALL CAPS-no matter how excited the lottery agent may be that you have won. This is a clear indication that you are being scammed.
Remember that there is no guaranteed way to win the lottery. All lottery draw results are entirely random, and there is no way to predict what the results will be.
If you believe that a winning claim could possibly be legitimate, always confirm it with the official lottery agency that is claiming that you have won the lottery. The details for whom to contact should be easily found on the official website or on Google. Never respond to the original email until you have done this first.
Conclusion
As said above, winning the lottery is one of the best feelings that a person can feel, but it would be a proportionately huge disappointment to find out you got excited for nothing-and then your money was stolen from you on top of that. Unfortunately, there are plenty of crooks out there that try to capitalize on the fun that people have playing the lottery by conning them out of their hard-earned money. These scammers will do anything to try and take advantage of your vulnerabilities in order to enrich themselves.
Luckily, if you follow the above simple steps and keep your wits about you, there is a minimal chance that you will ever actually fall prey to such scammers. This means that you will be free to play in your favourite lotteries without any worries about becoming a victim yourself.