RedFoxLotto is an online lottery service that allows lotto fans to participate in draws outside of their own countries.
The website offers access to the biggest lotteries in the world and follows a similar model to many of its competitors.
In this RedFoxLotto review, we'll explore how the site works and how it compares to similar services.
How RedFoxLotto Works
RedFoxLotto is an online lottery agent that has employees all over the world who buy official lottery tickets on behalf of its customers.
Players can choose between selecting their own lucky numbers or playing the quick pick numbers.
Once the order goes through online, employees from RedFoxLotto go out and purchase a ticket matching those numbers.
Players receive an email confirmation of the ticket purchase, though they do not receive a scanned copy of the ticket.
The website claims that they are helping to keep the price of tickets lower for their customers by not uploading scans.
Players are then automatically notified if their ticket is a winner, and any prize amount less than €2,500 is credited to the account. Players must reach out to customer support if they win a prize larger than €2,500.
To begin buying online lottery tickets with RedFoxLotto, you first have to sign up for an account.
This is a quick process that involves inputting your email and creating a password.
Once the account is set up, users can deposit money into it and begin purchasing tickets.
However, RedFoxLotto does have some limitations on the number of tickets each user can buy.
Some lotteries, such as US Powerball and Mega Millions, have a minimum two-line purchase requirement.
All supported lotteries have a maximum line purchase of 25 per ticket, and the site has a maximum ticket limit of 20 per order. Users cannot place an order that exceeds €1,000.
RedFoxLotto does not offer subscriptions or multi-draw purchases through which users could purchase tickets for future draws in a specified lottery.
At this time, the site also does not offer syndicate play.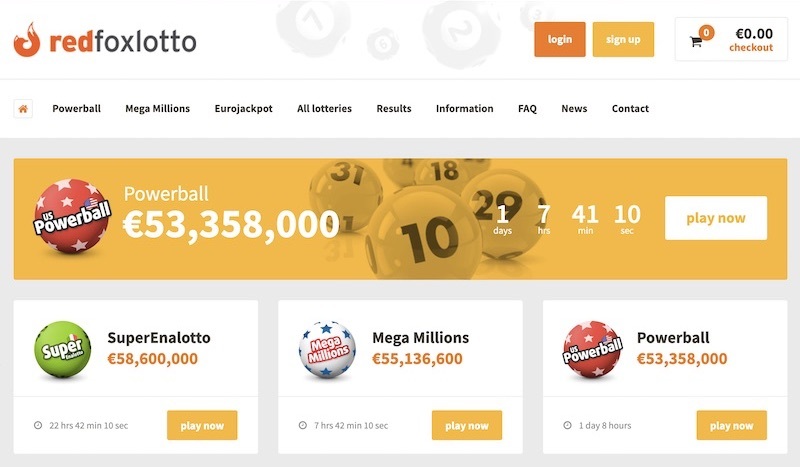 Features
Lotto results
Lotto news
Available in nine languages: English, German, Spanish, French, Italian, Portuguese, Romanian, Russian and Persian
Ease of Use
The RedFoxLotto website is easy to navigate and clearly displays the most popular lotteries on the homepage.
The homepage also shows the latest winners from the site, as well as the most recent draw results.
Visitors can easily purchase tickets to their preferred lottery by clicking the "Powerball," "Mega Millions," "Eurojackpot," or "All Lotteries" tabs in the navigation bar.
For more information about past draws or about how the site works, the navigation bar also features tabs for the "Results," "Information," "FAQ," "News," and "Contact" pages.
Though RedFoxLotto does not currently offer an app on iOS or Android, the website is optimized for mobile.
Supported Lotteries
EuroMillions
US Powerball
Mega Millions
OZ Lotto
Eurojackpot
SuperEnalotto
UK Lottery
Powerball AU
La Primitiva
El Gordo
French Lotto
Saturday Lotto
Mon & Wed Lotto
Polish Lotto
Lotto Zambia
Promos
RedFoxLotto does not appear to offer any promos or bonuses.
Payment & Withdrawal Options
The website offers many payment methods for users to deposit money into their accounts. These include Visa, MasterCard, Neteller, Skrill, Bitcoin and bank transfers.
Players must have a minimum of €10.00 in their account to withdraw funds. In addition, the transfer must be made with the same method they used to deposit money in the account.
However, users cannot remove an amount that exceeds what they had previously deposited.
If they win a prize that is higher than the amount they deposited, then it can be transferred to a bank account.
RedFoxLotto does not take any fee or commission off your winnings. However, some third-party financial institutions may take a fee during the transfer process.
Customer Support
For visitors who are looking for additional information, RedFoxLotto has an adequate FAQ section.
If players can't find the answers they're looking for, they can reach out to the site's customer support team in the following ways:
The website states that the RedFoxLotto team is able to help users 24/7. However, it does not mention specific business hours or offer a live chat option.
Is RedFoxLotto Legit?
Yes, RedFoxLotto is legit. It is owned by White Lotto BV, which owns multiple online lottery websites, including LottoPark and LottoHoy.
RedFoxLotto Review Final Verdict
RedFoxLotto is a very straightforward online lottery website. Most importantly, it follows through on its promises of making it easy to participate in lotto draws from around the world.
Unfortunately, it lacks some of the features that are standard among the top lottery sites.
While its services are adequate, offering subscription play, ticket scans and syndicates would take RedFoxLotto to the next level.