As the second-largest lottery in the United Kingdom, UK Thunderball is a lottery you have probably heard of before.
In this guide, we will look at what makes this lottery so special and review all the things you should know if you want to claim one of its great prizes. We'll also explain how you can buy UK Thunderball tickets online.
About UK Thunderball
Camelot Group, the same organisation behind UK Lotto, launched Thunderball in June 1999 as a weekly Saturday draw.
The game quickly gained popularity amongst the local lottery players.
Fast forward a few years, and the game has undergone many significant changes. These include how many draws take place each week, the machines used to draw results and even the jackpot.
Today, UK Thunderball is a popular lottery both in the UK and across the globe. The game's charitable efforts also help keep it at the forefront of many people's minds when choosing a lottery to play.
UK Thunderball Draws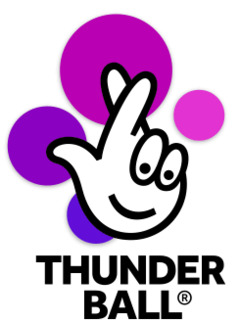 Over the years, UK Thunderball moved from a draw that took place just once a week to one that now happens four times each week.
Draws are held on Tuesdays, Wednesdays, Fridays and Saturdays at 8 pm GMT at the National Lottery head office in London.
All draws are broadcast live, and the results are posted as soon as the draw has been concluded.
How to Play UK Thunderball
The game uses a familiar double-matrix (5/39 + 1/14) system. If you have played in other big international lotteries, this double-matrix format should be familiar to you.
To play, you will need to select five numbers from a pool ranging from 1 to 39. You will then need to choose a single Thunderball from a pool ranging from 1 to 14.
To win the jackpot, you must match all five main numbers and the Thunderball.
If you don't want to pick your own numbers, you can opt to use the quick pick option offered. For this game, a quick pick is branded as Lucky Dip.
Tickets cost just £1 each (when buying from inside the UK).
UK Thunderball Prizes and Odds
UK Thunderball offers a staggering nine prize tiers, including the jackpot. This means that there are plenty of ways that you can win.
The odds of winning the jackpot are 1 in 8,060,598.
These are really great when considering that other local lotteries like UK Lotto (1 in 45,057,474) and Set for Life (1 in 15,339,390) have odds much higher than these.
However, unlike other local lotteries, Thunderball's jackpot is not as excessive.
The jackpot is set at a static £500,000. This, and all other prizes, are fixed.
The full pay table offered is listed below:
| | | |
| --- | --- | --- |
| Numbers Matched | Odds of Winning | Fixed Prize |
| 5 + Thunderball | 1 in 8,060,598 | £500,000 |
| 5 | 1 in 620,046 | £5,000 |
| 4 + Thunderball | 1 in 47,416 | £250 |
| 4 | 1 in 3,648 | £100 |
| 3 + Thunderball | 1 in 1,437 | £20 |
| 3 | 1 in 111 | £10 |
| 2 + Thunderball | 1 in 135 | £10 |
| 1 + Thunderball | 1 in 35 | £5 |
| Thunderball only | 1 in 29 | £3 |
Claiming UK Thunderball Prizes
The process of claiming your prize will depend on how much you have won. This is pretty standard for most lotteries, so we are not entirely shocked.
For any prize up to £500, you can claim your prize at any authorised lottery reseller or post office.
Prizes between £501 and £30,000 can be claimed at the lottery offices, post office or via mail.
If, however, you are a jackpot winner, you will need to arrange with the National Lottery to claim your prize in person at one of its offices. You will need to verify your identity when claiming your prize.
All prizes are paid out as a cash lump sum, and there is no option for an annuity.
Also, the UK doesn't impose any taxes on lottery winnings. Players from other countries, however, should check their local tax laws.
Notable UK Thunderball Winners
Because the jackpot was set at a static amount of £500,000 way back in 2010, there have been no outrageous wins.
However, there have been plenty of people that have had their lives changed by winning £500,000. Especially since the draw now takes place four times a week.
Another great thing is that the £500,000 jackpot is not pari-mutuel. Each winner is guaranteed to receive £500,000 regardless of how many winners there are for a particular draw.
UK Thunderball-Should You Play?
UK Thunderball is a great lottery that gives you four chances every week to change your life with a decent £500,000 jackpot.
While the game may not have the highest jackpot ever, it has pretty good odds of winning and a reasonable ticket price.
If both of those sound good to you, this is certainly a game worth buying lottery tickets for.