If there's anything in life that can make you believe that dreams really do come true, it's the lottery.
With every draw, lotteries help make peoples' lives better. This is never truer than when mega lotteries like US Powerball or Mega Millions have a record-breaking jackpot up for grabs.
One player in particular had his whole life changed because of one lucky ticket. Read on to learn more about Manuel Franco, who won a huge Powerball jackpot at the age of just 24.
Who Is Manuel Franco?
Manuel Franco is an American man who was born in Wisconsin.
In March of 2019, Franco was 24 years old and living in the suburbs of West Allis, Milwaukee.
By all accounts, he lived a normal, uneventful life. He went to work at his job at Target to achieve his short-term goal of having $1,000 in his bank account.
However, that all changed one day when he walked into a Speedway convenience store in New Berlin on March 27, 2019.
A lottery fan who had been buying tickets since his 18th birthday, Franco decided to buy $10 worth of tickets.
Manuel immediately had a good feeling about the tickets. Later, he even said that he had to hold himself back from winking at the security camera, he felt so lucky.
The young man was right to have that feeling, because in that group of tickets was a record-breaking winner.
When Did Manuel Franco Win the Lottery?
Manuel Franco won the March 27, 2019, Powerball draw.
His winning numbers were 16, 20, 37, 44 and 62, and the Powerball number 12.
Franco quickly checked his ticket and saw that he was the winner. He said he spent 10 minutes screaming from joy, and his dad even started crying from happiness.
Even though he knew he was the winner, he still went into work the next day. However, that was the last shift he ever worked at Target.
Manuel also took his time claiming his prize.
Powerball winners have up to 180 days from the draw date to come forward. Franco waited until April 23, 2019, to claim the jackpot.
We're not sure what he did in that period of time between the draw and claiming his prize.
However, when speaking to media after his win, he said he'd never become one of those winners who ended up bankrupt.
Based on his confidence, we expect he likely took some time to get his affairs in order. Hopefully he took the advice of lotto experts and consulted with financial planners and advisors.
How Much Money Did Manuel Franco Win?
The jackpot for the draw was an incredible $768 million.
Franco decided to accept the lump-sum payout, which totalled $477 million. After federal and state taxes, Manuel took home approximately $326 million.
At the time, the jackpot was the third-largest prize in US lotto history. Now, it sits as the fourth-largest prize.
It was bumped in January 2021, by a $1.05 billion Mega Millions jackpot.
At the time of the win, Manuel told media that it felt like a dream. We can't say we'd feel any differently!
Where Is Manual Franco Now?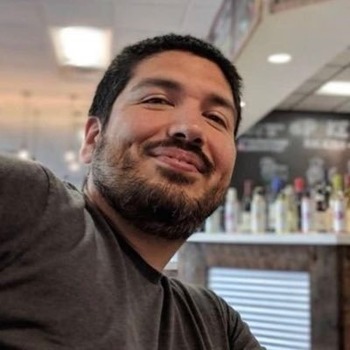 Just as he told media after his win, Franco hasn't been the kind of winner to attract negative headlines.
That means that he has largely avoided attention and has been lucky enough to live in relative anonymity after the big win.
However, shortly after his win, he did make waves on social media for a kind deed he performed.
On Mother's Day in 2019, a woman from Illinois named Nicole Domitro was shopping at Target.
She was there to buy diapers for her son when she was approached by two men in their early twenties.
One of the strangers held a phone, while the other pointed to a picture on the screen and explained his story.
He told Domitro that his name was Manuel Franco and he had just won the Powerball jackpot in Milwaukee.
He then told her that he'd like to give her a $200 gift card as a Mother's Day gift.
After confirming that Franco wasn't pranking her, Domitro started chatting with him. He shared with her how he used to work at a Target in Milwaukee.
He also explained that he had tried giving the gift card to other shoppers, but they'd refused.
Franco also told Domitro why he was now in Illinois. It turns out that he was often approached by strangers in his home state who recognized him from his win. So, he moved to get away from that attention.
Domitro took a picture with Manuel and shared the encounter on her Facebook. She was extremely grateful for the gesture and said the world could use a few more people like him!
To anyone who followed Manuel's story when he first won, this kind act might not come as a surprise.
Franco said in his winner's press conference that one of his goals with his newfound wealth was to help people.
We can't help but wonder how many people around the country might have similar stories about Manuel Franco.
Manuel Franco Scam
Though it's clear that Manuel Franco has a generous heart, we can't believe everything we hear about him.
Unfortunately, Franco's story has been used in what is called an imposter scam. This type of lottery scam involves scammers using the identity of real people to defraud their victims.
These scams most often pop up on social media, email or through text message. The scammer will claim to be Manuel Franco and explain how they won the lottery.
They will then tell the target that they'd like to share some of the prize money with strangers. The scammer will ask for the target's personal information in order to send the money to them.
However, instead of sending money, the scammer will use the personal information to steal money from the target.
If you encounter a scam like this, never give your information out to the person contacting you. Instead, you should report the scam to law enforcement.
Conclusion
Few people are lucky enough to win a lottery jackpot, and we too often hear of winners who squander their winnings.
That's why a story like Manuel Franco's is so refreshing to hear. How can you not feel good about a young man just starting out in life catching such a big break?
No, Franco isn't trying to give his money away by the thousands as scammers would have us believe. However, it is clear he is paying his good luck forward, just as he said he would.