LottoMat.com is a website that allows users to participate in lottery draws from all over the world.
Once they sign up for an account, players can buy international lottery tickets online from the comfort of their homes.
In this LottoMat.com review, we'll explain how the website works and how you can use it to start playing the lotteries in other countries. We'll also explore whether it's worth signing up with.
How LottoMat.com Works
LottoMat operates as a courier service that facilitates the purchase of official lottery tickets online.
When users make a lottery purchase on LottoMat.com, the website's employees buy physical the tickets from the official lottery organization using the numbers selected by the user.
LottoMat then claims any winnings on behalf of the user and automatically credits their account with any prizes under $2,500.
Players must contact the customer support team for any winnings larger than $2,500.
To get started on LottoMat.com, users first have to sign up for an account.
This is a quick process that requires inputting some personal information like email address, first and last name, and phone number.
Players can then deposit money into their account and start buying tickets to any of the supported lotteries.
The process of choosing numbers is the same as if the user were buying tickets for their local lotteries, as manual selection and quick pick are both available.
Players can select up to 25 lines per ticket, and unlike some other online lottery websites, they can purchase a single line if they choose.
As such, users can buy tickets at a very low cost, as there are no minimum line requirements.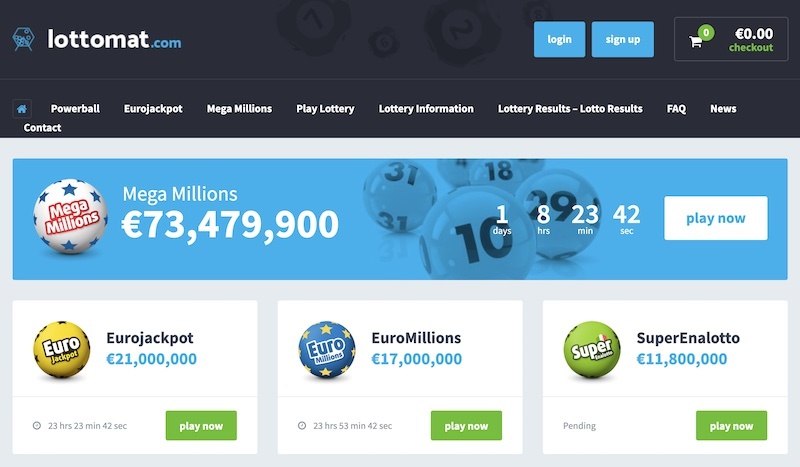 Features
Available in 27 languages, including English, German, French, Spanish, Romanian, Polish and Portuguese
Lotto results
Ease of Use
The LottoMat website is simple to use and easy to navigate.
Users can easily click on their preferred lottery from the homepage and explore the rest of the site using the navigation bar at the top.
The bar's buttons consist of "Powerball," "Eurojackpot," "Mega Millions," "Play Lottery," "Lottery Information," "Lottery Results," "FAQ," "News" and "Contact" pages.
Every page is full of information on how the lottery works and the benefits of playing.
LottoMat does not currently have a mobile app. However, the website is optimized for mobile browsing, so users should have no issues accessing all features on their smartphones.
Supported Lotteries
⭐️US Powerball
⭐️Eurojackpot
⭐️Mega Millions
⭐️EuroMillions
⭐️SuperEnalotto
⭐️La Primitiva
⭐️El Gordo
⭐️Powerball AU
⭐️UK Lottery
⭐️French Lotto
⭐️Polish Lotto
⭐️Oz Lotto
⭐️Saturday Lotto
⭐️Mon & Wed Lotto
⭐️Lotto Zambia
Promos
There are currently no sign-up bonuses or promos for new or returning players.
Payment & Withdrawal Options
Users can deposit funds into their accounts using payment methods such as credit cards, bank wire transfers, Neteller, Skrill, Bitcoin and a few more options.
The minimum deposit amount is €10.
Players can withdraw all winnings by selecting the "Withdraw" option in the "My Account" section of the website.
Funds can be transferred to the payment method used.
Though there are no fees taken by the site on smaller withdrawals, the Terms and Conditions section states something concerning. This is that LottoMat will take a 10% fee off of any prizes that exceed $10,000.
If you happen to win a really big jackpot, that 10% can add up to a seriously hefty amount!
Customer Support
Users can visit the FAQ page for answers to basic questions about how the website works.
If they cannot find the answers they need, they can contact the customer support team using the following methods:
Email at support@LottoMat.com
Fill out the contact form on the website
Mail at White Lotto Limited, 77A/2 Shenley Road, Borehamwood, WD6 1AG, UK
Is LottoMat Legit?
Yes, LottoMat is legit and perfectly safe to use.
The EU-company White Lotto Limited operates the website, and it is owned by White Lotto BV, a company registered in Curacao.
White Lotto BV owns multiple online lottery websites, including RedFoxLotto and LottoHoy, so it's safe to say that they know what they're doing.
LottoMat.com Review Final Verdict
LottoMat.com is very basic but offers a safe, easy and inexpensive opportunity for people to participate in international lotteries.
The lack of syndicates and subscriptions is disappointing, though players could attempt to organize their own group play arrangement with friends and family.
The low cost of tickets and the ability to purchase single lines makes it easy for new users to give the site a try without having to spend too much.
In addition, the vast selection of languages makes it accessible to a broad audience.
If LottoMat made a few additions to its services and began offering occasional bonuses or promotions, it could become a top website in the online lottery industry.