Winning the lottery at any age is an incredible experience. However, winning the lottery at a young age when you have your whole life ahead of you is an even more exciting prospect. The youngest lottery winners in the world have a lot of decisions to make when receiving so much money. They could choose to never work in their lives, to invest their winnings wisely or to continue with their life as they had always imagined. In this article, we're going to reveal the youngest lottery winners in the world (in order from oldest to youngest) and explain what they did with their prizes-some of their decisions might surprise you.
24-Year-Old Kelsey Zachow (Mega Millions - US$66 Million)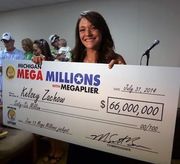 Kelsey Zachow's lucky day came on Friday the 13th in June 2004. Though the 24-year-old had been regularly buying lotto tickets for the Michigan Mega Millions draw for five years, she didn't check her ticket and realize her luck until 11 days after the draw.
At the time of the win, Kelsey had three children-a 5-year-old son daughter, a 2-year-old son and a 7-month-old baby boy. She planned on spending the money on her family, buying a new house, paying college tuition for her young relatives and going on holidays. Despite her young age, Kelsey seemed to have a good head on her shoulders, with even the lotto officials commenting on the mature plans she was making for her money.
24-Year-Old Manuel Franco (Powerball - US$768.4 Million)
Manuel Franco made headlines in April 2019 when he claimed the third-largest lotto jackpot in American history. The then-24-year-old was very familiar with the lotto, as he'd been buying Powerball tickets since his 18th birthday.
The Wisconsin man said he felt lucky when buying the winning ticket, to the point that he felt an urge to wink at the security camera once he had his ticket in hand. Before the win, Franco's biggest concern was getting his bank account to a balance of US$1,000, a problem he no longer had to worry about after claiming his US$477 million lump sum. After tax, he received just over US$326 million, which he said he'd use to continue living a normal life-good luck with that!-and donate some of it for philanthropic endeavours.
22-Year-Old Matt Topham & Cassey Carrington (EuroMillions - £45 Million)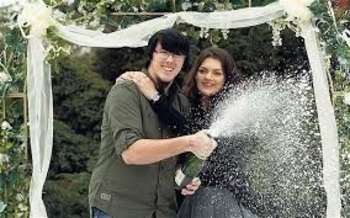 Engaged couple Matt Topham and Cassey Carrington had their lives changed forever on February 7th, 2012, when they won the £45 million EuroMillions jackpot. Topham and Carrington, who were both only 22 years old at the time, shocked the public when they decided to buy a modest £249,000 home after their win.
Though the small house was an upgrade from their £80,000 two-bedroom semi, they had bigger plans. Eventually they purchased a £1.2million Art Deco mansion, though they never moved into the luxury home, planning to build their own eco-home on the property. The couple also spent their money on a £70,000 Jaguar, and surprised many when they gave a gift of £1.3million to their best friend.
22-Year-Old Sandeep Singh (Mega Millions - US$30.5 Million)
Sandeep Singh had recently been dumped by his girlfriend when he won a US$30.5 million Mega Millions jackpot in October 2012. The Massachusetts man, who was 22 years old at the time, was working two jobs at the time of the win, and was struggling to help his family make ends meet. After collecting a lump sum of US$16 million after taxes, his family won't have to worry about that anymore.
Despite his young age, Singh focused on making responsible financial decisions. He said he intended to pay off the mortgage on his mom's house, share the luck with friends and family, donate to charity and pursue a bachelor's degree in business. Talk about bouncing back from a breakup!
22-Year-Old Gregory Mathieu (Canada Lotto Max - CA$70 Million)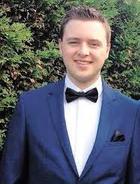 Gregory Mathieu of Quebec, Canada, experienced everyone's lottery dream come true when he learned he won a CA$70 million jackpot while he was at work. The 22-year-old was working as a cashier at a grocery store when he asked his co-worker to check his ticket during a lull in customers.
When he was told he had won the Canada Lotto Max jackpot, he was so overwhelmed that he had to call his father to pick him up, as he was too shocked to drive his own car. As part of a tight-knit family, Mathieu decided right away that his win would be shared with the rest of his family. His next priority was buying a new car, as his own had frequently been breaking down.
21-Year-Old Leah Sumray (Scratchcard - £1 Million)
When 21-year-old Leah Sumray won £1 million off of a £5 scratchcard, she celebrated by living a life of luxury. At the time of the win, Sumray was working at a chip shop, but she quickly started to feel at home partying at nightclubs with fellow millionaires.
Unfortunately, the lotto winner had a rude awakening when she had to spend two weeks in jail. Sumray was summoned to appear in court as a witness in an assault case, but decided to fly off on a fancy holiday with her family instead. When she returned, she was welcomed by police, who escorted her to prison.
21-Year-Old Kricket Slik (Canada Lotto 649 - CA$3.5 Million)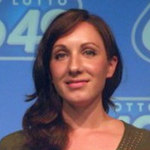 Kricket Slik couldn't believe her luck when she checked her winning Canada Lotto 649 ticket back in August 2011. The then-21-year-old decided to buy a ticket when she had a few dollars left over after purchasing a pack of cigarettes for her friend. The next day, Slik learned she was CA$3.5 million richer.
Slik had some solid plans for her fortune, planning to use her windfall to pay off debt and eventually open her own salon once she finished esthetician school. With her family warning her to be cautious with her new fortune, Slik was ready to be responsible-but that wouldn't stop her from splurging on a fancy car like a Mercedes or a Lexus, which she told press she saw in her future.
21-Year-Old Farrah Slad (Powerball - US$150 Million)
Farrah Slad's life changed forever when she bought US$5 worth of Powerball tickets after filling up her car at a gas station in June 1999. In that small purchase was the winning ticket for the US$150 million jackpot.
Slad decided to take the lump-sum payment, taking home just over US$78 million. The notoriety that came with the win immediately led to friends, family and even strangers asking Slad for money. She said she started staying home more just to avoid the issue. In reflecting upon her win, Slad said it was both the best and the worst thing that had ever happened in her life.
21-Year-Old Tim Schultz (Powerball - US$28 Million)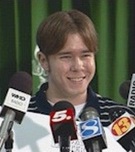 Young winner Tim Schultz's Powerball win wasn't without a little drama. Schultz bought his winning ticket in February 1999 while he was working as a cashier at a convenience store in Des Moines, Iowa. However, his co-worker, 20-year-old Sarah Elder claimed that she had paid half the price of the ticket.
Eventually, 21-year-old Schultz went to court, where it was determined the two would split the over-US$15.9 million lump-sum prize. Once that was settled, Schultz decided to finish school full-time instead of part-time, and spend some time travelling. Now, Schultz discusses his life as a lottery winner on his lotto-themed YouTube channel.
20-Year-Old Shane Missler (Mega Millions - US$451 Million)
Shane Missler of Port Richey, Florida, had big plans for the future when he claimed his US$451 million jackpot prize in January 2018. At the time, the prize was the fourth-largest jackpot prize in Mega Millions history, and Missler wasn't going to waste his good luck on pointless splurges.
Missler told press he planned to spend his money on a new house, on his family and to pursue a number of passions. He also decided he would use the US$281.2 million lump-sum payment to help others. He said he planned to make smart financial decisions so he could leave a legacy that would last long into the future.
19-Year-Old Michael Carroll (UK Lotto - £9.7 Million)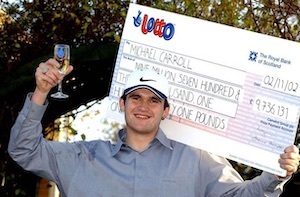 Michael Carroll became one of the most notorious lottery winners when he won £9.7 million at the age of 19. In 2002, Michael won the UK Lotto and quickly started spending his prize money. He bought a six-bedroom mansion and several luxury cars, and was known for throwing large parties and spending lots of money on drugs and women. He was also reported to hold demolition derbies in his own backyard, destroying the cars he had purchased.
Michael's life quickly took a turn for the worse. He was arrested twice, someone intentionally killed his five dogs and he was even blackmailed. After many years spending his winnings, he has no more left. Once he spent all of his money, he returned to his pre-lottery job as a binman.
19-Year-Old Frederick Walker (Powerball - US$2 Million)
Though Frederick Walker wasn't the big winner of a record-breaking US$1.58 billion Powerball jackpot back in January 2016, he matched just enough numbers to walk away with a still life-changing US$2 million. The Florida man won on his very first Powerball ticket when he decided to use a Powerball slip that somebody had filled out but abandoned.
Walker said that he didn't know much about Powerball, but decided to buy a ticket because of the enormous jackpot. When he saw a ballot already filled out, he figured those numbers were as good as any. The 19-year-old was just as shocked as everyone else at his luck at winning on his very first try.
19-Year-Old Jonathan "Jay" Vargas (Powerball - US$35.3 Million)

Jonathan Vargas was working as a construction worker when he won a US$35.3 million Powerball jackpot at the age of 19. After winning the money in 2008, Jonathan spent some time living large. He partied and bought luxury items before he started thinking about how he could maintain his wealth and took a personal finance course.
He pursued several business ventures, including creating a wrestling TV show with an all-female cast, all of which failed before long. The latest reports on Jonathan's whereabouts say he has spent all of his winnings.
18-Year-Old Charlie Lagarde (Winner for Life - CA$1000 a Week for Life)
Charlie Lagarde of Canada was only 18 years old when she purchased her first lottery ticket in March 2018. That ticket for Loto Quebec's Gagnant à Vie (Winner for Life) turned out to be a winner! Charlie won the top prize of C$1,000 a week for life and had to choose between accepting the weekly payouts or a C$1 million lump sum. She decided on the weekly payouts, as they were exempt from taxes.
Charlie's first purchase was an investment in her future-a new camera. She hoped the purchase would help her achieve her goal of working for National Geographic as a photographer. That investment seems to have worked out because, according to her Instagram, she is now a freelance photographer for National Geographic France.
18-Year-Old Robert Salo (Win for Life Scratcher - US$1,000 a Week for Life)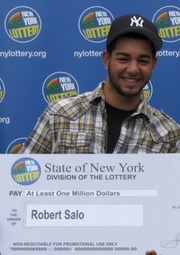 Like Charlie Lagarde, Robert Salo was only 18 when he was US$1,000 a week for life. The Brooklyn resident and high school senior said he bought a $2 Win for Life ticket on a whim in 2012, and it certainly paid off. Robert made the purchase just one week before graduating from high school and decided to use the winnings to pursue higher education. At the time of his win, he said he planned on enrolling in an out-of-state college to become an electrical engineer.
18-Year-Old Anonymous West Midlands Teen (EuroMillions - £22 Million)
An 18-year-old man won the jackpot in 2013, taking home £22 million from the EuroMillions lottery. He chose to keep his identity anonymous, so not much is known about what he did with his winnings or where he is now.
A friend of the winner reported that he didn't have much need for the money and gave a lot away to charity. The unidentified man reportedly celebrated the win by staying at a five-star hotel somewhere in the Middle East.
18-Year-Old Ianthe Fullagar (EuroMillions - £7 million)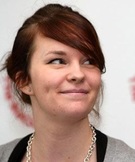 Ianthe Fullagar was working as a waitress for just £4.75 an hour when she won £7 million at the age of 18. Initially, the teen thought she had only matched three numbers in the EuroMillions draw and was thrilled to learn she had won much more. At the time, she said she hoped to open her own law practice in the future.
Since the win in 2008, Ianthe has used her prize money wisely, making several shrewd financial investments. Her investments were so successful that she was named the 27th richest person in the UK in 2010. Two years later, her net worth was an estimated £6 million, making her the 38th richest person in the UK, as reported by The Sunday Times.
17-Year-Old Stuart Donnelly (UK Lotto - £2 Million)
Stuart Donnelly's story doesn't have a happy ending. In 1997 the then-17-year-old took home £2 million of a £25 million UK Lotto jackpot that he shared with 12 others. Once Stuart received his prize money, he quickly left his old life behind. He moved away from his hometown, abandoned his studies and quit his part-time job. He spent money on luxuries like expensive football tickets and a vacation to Thailand with his friends.
Though Stuart spent a lot, he was very generous with his winnings. He bought a house for his mother, donated money to a hospital in Glasgow and bought a villa where he could take care of his father, who had polio. However, Stuart never liked the attention that came with his big win and told media in 2003 that he was having a tough time with the public recognition he was constantly receiving. Unfortunately, Stuart was found dead in his home in 2010 at the young age of 29. It is unclear whether he died from health issues or suicide.
17-Year-Old Jane Park (EuroMillions - £1 Million)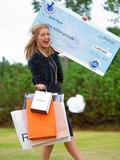 Jane Park became the youngest EuroMillions winner in Britain when she won a £1 million jackpot at the young age of 17. It was the first time Jane purchased a lottery ticket, and the luxury lifestyle her winnings presented was too tempting to resist.
The teenager quickly spent her prize money on luxury cars-including a BMW, a Range Rover and a Volkswagen Beetle-and a makeover involving plastic surgery and designer clothing. Her purchases, including her frequent holidays, were documented and scrutinized by the media. In 2017, at the age of 21, Park contemplated suing EuroMillions, stating that winning the lottery had ruined her life and that the minimum age for purchasing a ticket should be raised from 16 to 18. Ultimately, however, Park decided not to sue.
16-Year-Old Tracey Makin (UK Lotto - €1 Million)
Tracey Makin won a €1 Million UK Lotto prize in 1998 at the tender age of 16. The Irish teen thought she had only won €10 and got the shock of her life when she learned the truth was much, much grander than that. Tracey said the first thought that ran through her head was that she would never have to work again in her life. While she has moved on from the supermarket job she was working at the time of the win, she has continued to work. Now an office worker, the young woman decided to use her prize money to make wise financial investments thanks to the guidance of her parents.
16-Year-Old Callie Rogers (UK Lotto - £1.9 Million)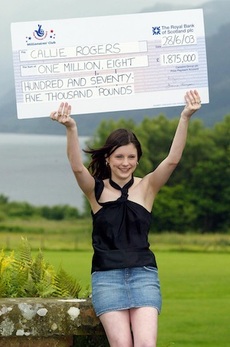 Callie Rogers was only 16 years old, making £3.60/hour and living in the British foster care system when she won a £1.9 million UK Lotto jackpot in 2003. The teen immediately went on a spending spree, purchasing luxury clothes and cars, undergoing plastic surgery and buying drugs like cocaine. A month after the win, she bought a bungalow for herself and a home for her mother.
The drastic shift in lifestyle took a toll on Rogers, and she allegedly attempted to commit suicide some years later. When contacted in 2013, Callie said she had never been happier despite having only £2,000 of her winnings left. She has echoed Jane Park's sentiments, stating that 16 years old is much too young for a person to win the lottery. After seeing some of these examples, we can't help but agree.
Conclusion
Winning the lottery does not always come with a happy ending. A lot of the world's youngest lottery winners learned the hard way that wealth and recognition can lead to temptation and bad decision-making. At the same time, smart personal and financial investments have allowed many of the winners on this list to live their dream lives from an early age. If you could have won the lottery at a young age, how do you think you'd have spent your winnings?